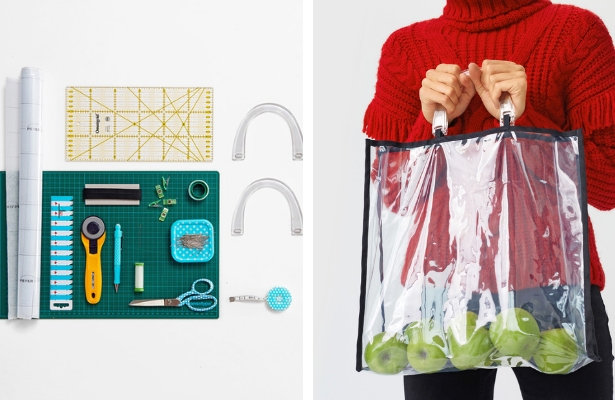 ShareThis
Annoyed of the endless search for something at the bottom of your bag? Here is a super-hip solution: a transparent bag made of PVC! The durable plastic shopper made of vinyl is not only a real it-piece, but also extremely handy when shopping. Read on to see how you can sew one for yourself…

+ Transparent PVC vinyl
+ Rotary cutter
+ Bias tape
+ Cutting mat
+ Transparentgarn
+ Clips
+ Thread
+ Ruler
+ Tape measure
+ Chalk
+ Scissors
+ Pins
+ Hand sewing needle
+ Plastic handles
+ Easily removable adhesive tape



Step 1: Cut 1 pocket piece (87 × 38 cm), 2 side pieces (11 × 38 cm). Fix the vinyl on the cutting pad with removable adhesive tape so that nothing moves.



Step 2: Iron the bias binding in half and then frame one of the narrow edges (11 cm) of the side parts.



Step 3: Iron the bias binding again in half and stitch on both sides with short edges. All in all you need 4 parts with 7 cm length each as loops for the handles.



Step 4: Thread the loops through the handles and place them on the pocket pieces 6 cm from the center. Then stitch the loops at 0.5 cm.



Step 5: Border the two upper edges of the pocket part (with the hinged handles) with bias binding as in Step 2. Then fold the loops up and stitch them.



Step 6: Clamp the two side panels to the pocket piece and stitch at 0.5 cm all around. At the bottom of the ground, set down with the machine and turn.



Step 7: Carefully cut the four corners of the bottom of the bag (cut out a small rectangle), so it lays better.



Step 8: Embrace the side panels with bias binding: At the top of each corner, insert the slanting band, pin it down and stitch it with narrow edges.



Step 9: Place the sewing machine on the ground just before the corners, place the bias binding around the corners, clamp and continue stitching.



Finished! Of you want your bag more bright and vibrant, try using neon bias tape to a pop of color. You can also find and use tinted clear vinyl for a different look.
Bag making fever? Try out more bag DIYS found below:



Moon Shaped Bag; Oversized Bag; Yoga Bag

What's your bag sewing style?