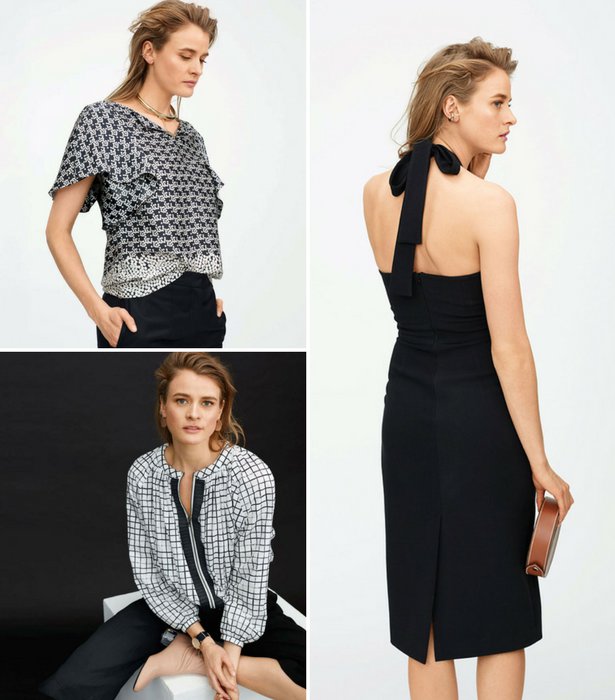 ShareThis
Meetings and after work cocktails get a stylish and self-confident quality with these straight-line styles in modern black & white from the 07/2017 issue of BurdaStyle magazine.

Such a cool look! This mini dress has a couture skirt panel design in front with the asymmetric lines and a white hand-stitching accent along the front as well as the side tab.



Rather than wearing a collar necklace here, the wide partial placket front closure gets a striking striped petersham as an accessory. The over-cut shoulders lean into the sleeves for a boule shaped effect. Fashion tip: This style also looks great off-duty and pairs perfectly with jeans.



A lightweight alternative to the classic blouse. Flounces replace the standard sleeve and the piece drapes beautifully when sewn with a supple satin. The neckline front comes together with a perfectly matched covered button.



This little black dress in a sexy style. The front bodice panels are tied at the back neckline. The wrapped pieces overlap so that they shape a teardrop neckline slit. The sharply fitted skirt accents a beautiful hip section cut-out. Viscose crêpe is a great fabric choice because it is washable and absorbs colour easily.



The details are exceptional and make it a great choice for many occasions. The wrap effect is emphasized by black bands that outline this skirt and sit at the waistline.



This shirt with the cropped raglan sleeves finished with mini slits is a modern shake-up of the business blouse. You could also fashionably shape the waist by wearing a narrow belt along the overlapping peplum panels.



Elegant tuxedo stripe trousers in a relaxed cut with a ruffled band at the waist – a cool fusion of high fashion and sportswear. Pair these sporty trousers with some plain pumps for a look that is absolutely ready for the office.



A blazer isn't always necessary. This bomber jacket is a fresh choice. Mini pleats along the hems and at the padded neckline are fun – and thanks to the lightweight cotton fabric, they don't add extra volume. A folded petersham trim along the zipper closure adds an extra visual element.



Gorgeous, and at the same time, stunningly laid-back. This blouse is sewn with an organza fabric and is constructed without a collar, though it has kept a wide placket in front that gets noticed thanks to the petersham trim. Snaps are used in front to eliminate complicated buttonhole work. The generous sleeves have a sliding cuff at the hem. For an opaque look, a fitted skin-color camisole could be worn underneath.


Sew up all these style with the discounted pattern collection bundle here!