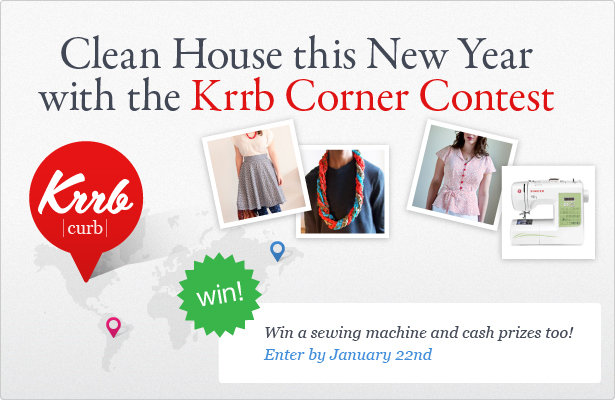 ShareThis
Our friends at Krrb.com cordially invite you to clean house this New Year with the Krrb Corner Contest. Krrb is a fun, friendly and safe place to buy, sell, trade, borrow or give to your neighbors — locally and in-person. Each person on Krrb gets their own personal 'corner' shop—think of it as a virtual garage sale—where you can post your own classified listings and interact with other users. By joining Krrb now and creating a fabulous corner, you can win a SINGER® Fashion Mate 7256 plus cash prizes!
The Internet has connected us to all four corners of the world and made finding or selling those rare and offbeat items a little easier. But between grainy images, hefty shipping charges and the plethora of shady online merchants and scams, sometimes obtaining that much needed item ends up being more of a hassle than it's worth. Krrb.com exists to change all of that with one simple premise — chances are, someone in your neighborhood is interested in what you're selling.
Using your address as a starting point, Krrb.com displays all of the items for sale within a three-block radius, making it easy to find hidden treasures literally right outside your doorstep. So you can see firsthand whether that vintage Singer sewing machine is in working order and not have to worry about paying astronomical shipping rates to get it home. Or how about the novelty of actually touching and seeing fabric, notions and supplies before you buy. Krrb.com is a fun way to connect with other design, craft and sewing enthusiasts in your area.
For people who love the thrill of finding a rare item at a flea market or haggling over the price of a toaster at their neighbor's garage sale, Krrb.com brings that one-on-one feeling to the online marketplace, reestablishing the personal connection between buyer and seller. For clothing and craft designers and sellers, Krrb.com provides the speed and convenience of selling online without the hassle of shipping items. And since you are dealing with customers face-to-face, you get your money when they get their item – no third-party involved.
Krrb.com beta launched only a few weeks ago and they are looking for pioneers to take advantage of this fantastic new tool. We feel that Krrb.com is a great resource for BurdaStyle members to sell their handmade and vintage goods, fabric, supplies or unused stuff laying around your home or studio. We are seriously giddy over this and we hope you are too!
Get started now! Sign up for a free membership at Krrb.com, it only takes a few seconds. Krrb does not take a commission off your sales and the website is clutter-free with no advertising. Krrb uses a credit system for posting and relisting items. Credits can be earned or purchased. Just for setting up your member profile, you will automatically receive 23 free credits. Just for being a BurdaStyle member, they'll give you an additional 50 free credits, simply email them at gimmecredits@krrb.com. And there are many more ways to earn free credits.
For more information, see how Krrb works.
How to Enter:
1. Join Krrb.com for free and start posting immediately – it's fun, fast and easy. Your items are displayed elegantly in Krrb's hyper-local listings and in your own personal 'corner' shop.
2. Curate your corner. Pick a winning idea from the list below, mix it up or make up your own. Don't forget to complete all your settings such as setting your corner name and address, uploading a picture and a short bio. For doing so, Krrb will reward you with even more free credits.
3. Once your corner is in a good place, make your submission by commenting below this blog post with the URL link to your Krrb corner. Only entries with 5 posts or more will be considered. All posts in your corner must be real and available to your neighbors. See our BurdaStyle Corner posted below as an example.
The deadline for submissions is Saturday, January 22nd at 11:59pm EST. BurdaStyle will announce the winners on January 25th via blog post and newsletter.
Prizes include:
1. Top Corner (1) winner — SINGER® Fashion Mate 7256 + $200 USD
2. Honorable Corners (5) winners — $50 USD
Judging will be based off the following criteria:
• Storytelling — How well does the corner and each post tell a personal story?
• Neighborly — Is the overall tone friendly, familiar and fun?
• Creativity — Are you using Krrb in an innovative, imaginative and resourceful way?
• Quality — Pretty pictures and well-written text goes a long way.
A few winning ideas:
• Spring-cleaning in January — It's cold outside, the heat is on and it's stuffy inside. Give yourself some breathing room and sell off a few things creating clutter around the house.
• Sewing Room Stash — Sell off your extra stashes of fabric, notions, supplies, tools or other.
• Treasure Trove — Dust off that old stuff in your basement or attic and give it a good new home. Your trash is anothers treasure.
• Closet Clearance — Make room in your closet by getting rid of the stuff you're not wearing.
• Creation Corner — Showcase and sell your creations to your neighbors, they'll be happy to know you're right around the corner.
• Giveaway Madness — OMG, you're crazy for giving that away! That's right, give it all away, you'll feel soooo much better.
• Holiday Gift Exchange — Sell, trade or give-away those wonderful gifts you received that you simply don't need (or want).
No purchase necessary. This competition is open to all BurdaStyle members, including international members! You may submit multiple corners as long as each corner represents a different entity (e.g. your personally and your business). See full rules here.