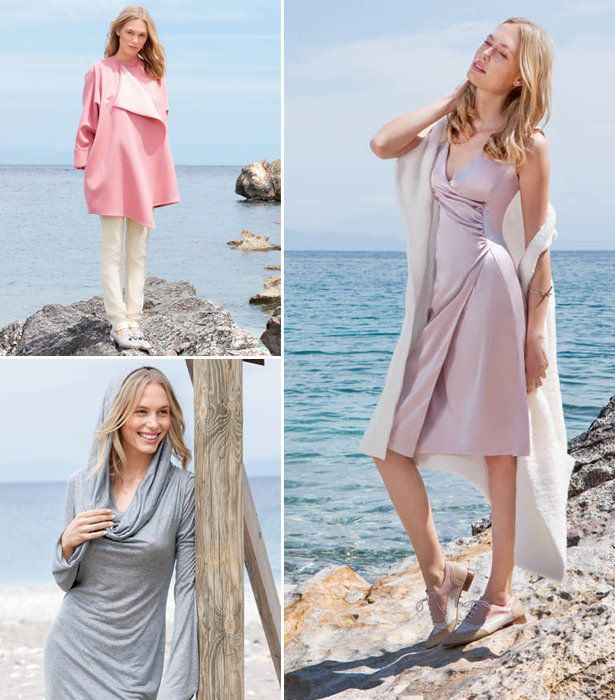 ShareThis
This collection from the September 2015 issue of BurdaStyle is full of beautiful pieces that are classic and feminine. A gorgeous wrap coat that can be made in a variety of fabrics, classic shift dresses and a drop waist skirt.
Click the image to see more info about the pattern in our pattern store!

Heathered Wild Dove Stretch Viscose Jersey; Heathered Light Gray Viscose Jersey; Metallic Burnt Charcoal Laminated Viscose Jersey
This cowl neck dress has a deep cowl that can be transformed into a hood whenever the mood strikes. It has long sleeves and can be worn in the winter months with high books and tights.

American Made Nu Blush Solid Polyester Satin; Lotus Stretch Acetate-Nylon Satin; Light Pink Solid Charmeuse
This classic dress features a side ruche and a v-neckline. it hits at about knee length and would be perfect for fall and winter weddings paired with a shawl.

Pink/Gray Wool Tweed Suiting; Rag & Bone Gray/White Double-Faced Gauze-Like Woven; Rail Gray Stretch Wool Suiting
These wide leg trousers feature front pleats and wide cuffs at the hems. These are very on trend and always will be, pair with flat loafers or heels to lengthen and lean.

Ecru Stretch Cotton Sateen; Rag & Bone Beige Mercerized Cotton Twill; Theory Birch Speckled Stretch Cotton Twill
These riding style pants have a skinny fit and zip up the back. There is detail on the bottom that resembles equestrian pants.

Italian Riga Grig/Rosa Blended Wool Twill Suiting; Italian Graymore Wool-Cashmere Coating; Theory Light Nickel Gray Stretch Wool Suiting
This classic shift dress features hidden pockets, which will come in handy more than you will ever think. There are no sleeves and a slight boatneck. Everyone should own one!

Italian Honeysuckle Backed Novelty Wool Coating; Coral Rose Single-Faced Wool Fleece; Baby Pink Solid Double Face
This pink wrap coat is tres chic! It features long sleeves with large cuff sand closes as a wrap. The perfect cozy fall coat, try it in a few different fabrics including plaid and navajo print.

Rag & Bone Pale Gray/White Double-Faced Gauze-Like Woven; Pale Gray Metallic Cotton Jacquard; Italian Grigio Scuro 100% Wool Coating
This long-sleeve shift dress is classy and classic! Make it in a light grey wool for the perfect fall dress. The sleeves feature two slits and there are darts throughout for a perfect fit.

Small Estate Chocolate Stretch Lamb Leather; Fudge Backed Faux Leather/Vinyl; Small Brown/Rose Gold Metallic Coated Goat Leather
This drop-waist skirt has a light flounce appeal with a side zip closure. It's so fun to wear, try making it in leather for the winter months!

Baby Blue Mechanical Stretch Polyester Crepe de Chine; Regatta Silk 4-Ply Crepe; Gray Dawn Silk Crepe de Chine
This feminine dress has an a-line silhouette with slight ruffles at the 3/4 sleeves. There is also a lovely tie front and you can even add a front ruffle panel if you choose.

Italian Celeste Blended Virgin Wool Coating; Oscar de la Renta Seafoam Solid Double Face; 44L/28mm Italian Silver Semi-Clear Plastic Button
This beautiful trench coat is a classic piece that will withstand the test of time and trends. It features very large lapels, pockets and double breasted buttons.
Happy Sewing!