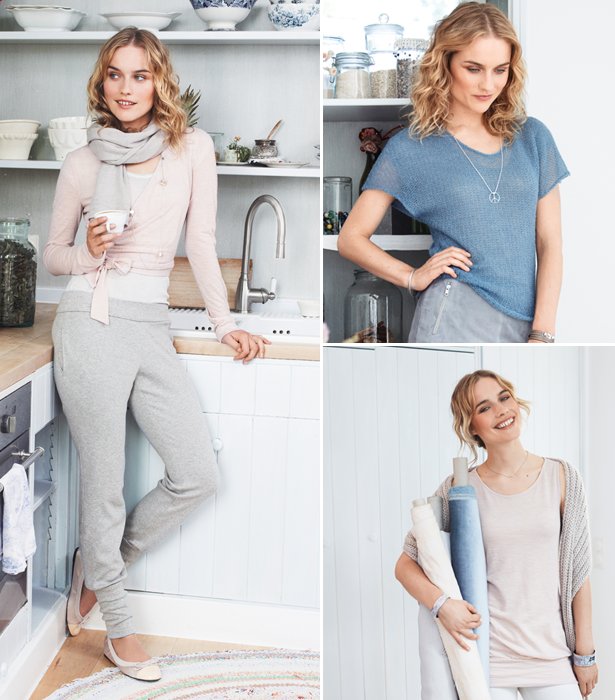 ShareThis
From us to you in the comfort of your own home we showcase the new pattern collection from burda style magazine's November issue. It's pouring outside and the rain is lashing against the windows; the mist is thick on the fields and meadows all you want to do is slip into some comfy clothes and cuddle up inside. This collection features many easy-to-make loungewear patterns sewn in cozy knit fabrics.
This Long Waistcoat, with wide collar, takes the place of an XXL scarf for a flouncy feminine look. This easy-to-sew style has dropped shoulders and a tie belt out of the same fabric that gives a little definition.
Sometimes you can just enjoy doing nothing – with this comfy Chill Dress of fine jersey it's no problem! It's so easy-to-make with only two side seams, two shoulder seams and no fastening. The details are delightful – like the oval V-neckline and the dropped shoulders.
This pretty, waist length Wrap Knit Top has extra long ties to bring out your individual shape. Brilliant for keeping warm – the sleeves are especially long, so you don't need wrist-warmers. It's the ideal match for these Jersey Trousers with extra wide hem bands. And if you're a beginner sewer, you can sew these trousers easily with step-by-step sewing instructions with pictures included in the instructions!
Cozy at home or when you're out for an autumn stroll. This draft-it-yourself Poncho can be made easily out of cable knit fabric. The hem edges are accented with a trim and the sleeves holes are two slits.
This lovely Mohair Shirt lets your skin breath. The simple V-neckline top with dropped shoulders, made from chic mohair knit, is quick-to-sew and great to wear! We love it worn with this Leather Mini skirt with zip pockets and a front slit that can be worn in or out of the house.
At work we always have to be perfectly dressed. So it's lovely to be able to let-go at home and this relaxed Banded Tank is the perfect thing to wear! The doubled hem band gives a casual blouson-effect. This top also makes a great layering piece.
Heading out to the corner store? With this chic Leather Tie Jacket, everything's more fun! The casual cut with open edges compliment the home-wear-look. The fastening is done with leather ties which are caught in the side seams.
This classy mohair Knit Pullover is great for relaxing in, and is a cinch to make! You just need thin knitting to cast off stitches on the hem edge.
Happy lounging, and sewing!