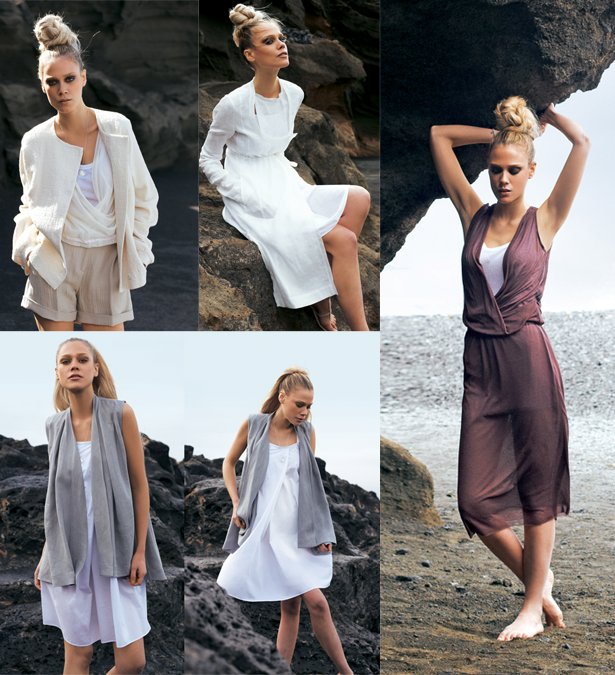 ShareThis
This week we share one of our favorite pattern collections from the April edition of burda style magazine. These clean, casual and at the same time elegant designs are perfect for summer.
Casual Elegance is a collection of styles that will bring you to a zen like state. With flowing shapes, natural materials, comfortable cuts and soft draping there is something for everyone in these organic designs.
This is a sophisticated summer Snap Front Jacket with big cuffed sleeves. We think it makes the perfect jacket for those cool summer nights, and it has great stylized seams.
This Crossover Top is a lovely little summer top and would look great worn with a sleek pair of shorts.
A classic Strapless Jumpsuit is a summer wardrobe staple. We love this one because of it's elasticated edges, and flowy silhouette. You could wear to the beach with a pair of sandals or pair with heels and a blazer for a chic night time look.
The Draped Dress is elegant with it's crossover styling and fullness. This classically cut dress is beautifully draped and designed for comfort. It is easy to wear and makes the perfect summer dress.
This is the Asymmetric Dress , and we love all it's unique details. This intricate dress has a crossover front that cinches in at the waist with a drawstring. This dress would be a great cover-up for the beach and also make an elegant dress to be worn during the day around town.
Here we have a great summer look. The Flowy Vest would make the perfect addition to any summer wardrobe. Worn over this simple Pleat Front Dress with a deep pleat at the front, it makes an elegant style to be worn at the beach.
These patterns are designed to be elegant while maintaining a level of comfort, and we love the organic designs of this collection. Make your self a new summer look by using these classic patterns and find your inner zen.