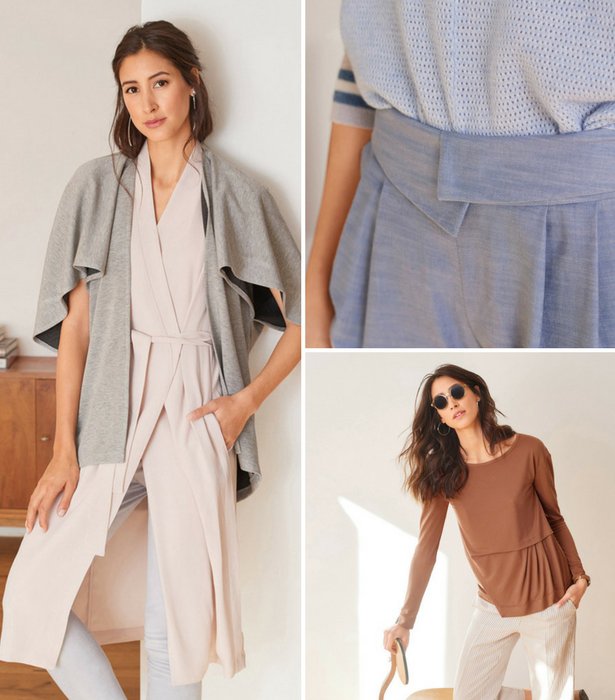 ShareThis
Uncomplicated, yet absolutely stylish: These styles from the 03/2018 issue of BurdaStyle magazine in trendy blue, grey and beige are just what you need in your wardrobe.

For a totally relaxed look, sew this knee-length skirt in a breezy mixed linen weave. It gets an unexpected twist thanks to the elastic gathered, offset fabric panel at the waistline.



"This blouse": with the full raglan sleeves and long attached tying band is both sporty and feminine. Sew it in a striped silk for a beautifully modern look.



These slightly tapered to the hem trousers fit comfortably without pulling and look fashionably smart, too. The waistband wraps in a fresh trending overlap, classic hip yoke pockets anchor the look and a soft cotton fabric are a great combination. Add a festive touch by accentuating the waistband in a satiny fabric, if you prefer.



The draped front detail of this jersey top has a sophisticated layering effect. The narrow sleeves and clean finish of the rounded neckline counterbalance with smooth lines.



A look that proves straight lines can be wonderfully feminine. Rather than bustline darts, the collarless blouse is shaped with decorative mini pleats at the waistline – a detail also repeated for the set-in sleeves. On breezy days, wear it as a jacket option to pull over flowing dresses.



A style that works for a day of lounging on the couch as well as it does as a fashion blending accent over an elegant dress. The cardigan features cut-on sleeves and a curved back. Make a tying belt of the same fabric if you would like to pull it closed.



This style is classic in front with an abbreviated button placket in back which, accented with elegant buttons, is meant to get noticed. The design features wide cuffs and is one that can be worn to the office as easily as it works paired with denim.


Sew up ALL these patterns with the discounted pattern collection bundle here!