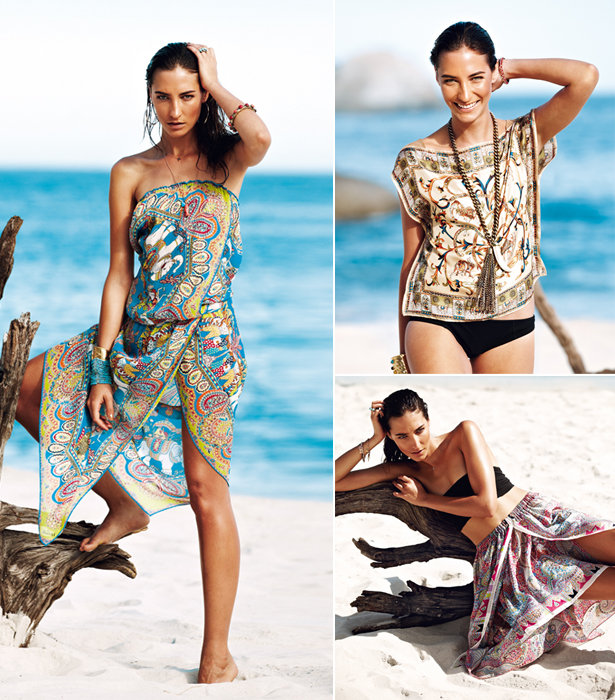 ShareThis
This collection from the 07/2012 issue of BurdaStyle magazine features 8 lovely designs made mostly from silk scarves! You can make an entire summer beach wardrobe from scarves lying around in your closet, or ones that you purchased specially for making into a garment. These styles will have you looking and feeling like a caribbean queen.
Click on the pattern image to go to the pattern store page…
Bright & beautiful! For this loose-fitting top two silk scarves are used to create the front and back and the rectangular neckline is formed by two wedges of soft leather.
This draft-it-yourself bandeau is a sewing project that is easy and fun to make. It is a great piece to wear to the beach or under a low cut shirt. You could make it in a classic black for versatility, or make it in a fun printed spandex for a pop of color!
This dress you can wear a couple different ways and optionally one-shoulder. It is made from two large silk chiffon scarfs sewn together at the side and shoulder with a tie band to cinch it in.
Relax at the beach wearing this skirt over your swim suit or with a crop top. Two lightweight silk scarves make up this skirt. The top layer is shorter than the bottom and it is fitted by an elasticated waist.
These silk shorts are a summer staple. They are so stylish and look great over a bathing suit at the beach.
Transform a silk scarf into this halter top by sewing a channel for the neck tie!
Easy breezy is this calf-length bandeau wrap dress. It consists of a single large silk cloth and is cinched in at the waist by elastic.
Make this beach tote out of a silk scarf and pieces of leather. Keep all of your summery things like sunscreen and glasses in this tote and it will match your outfit as well!
This collection is included in our latest July 2012 Flagship Kit that includes all the sewing pattern styles from the issue. Get this collection and many more in the kit! Download yours here today.
Happy Sewing!