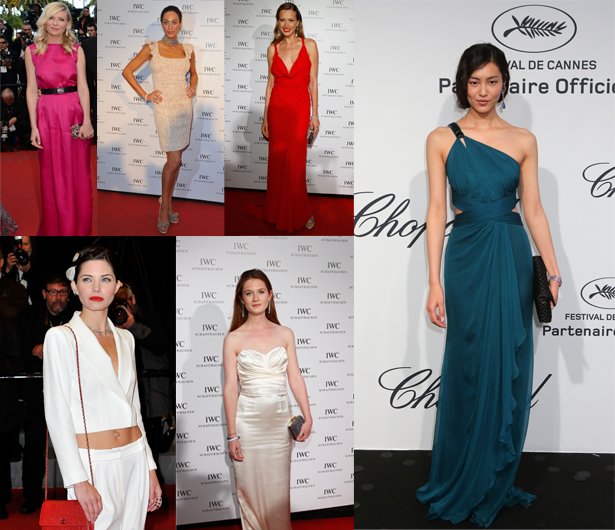 ShareThis
With the 65th Annual Cannes Film Festival underway this past week, we took a look at what the stars are wearing on the red carpet and how you can get the look with our patterns!
The Cannes International Film Festival is the world's most prestigious and publicized film festivals. This means that all the celebrities and starlets flock to France to attend, and they bring their fashion-sense with them! The Cannes red carpet is where the stars display their couture gowns, and with Jean Paul Gaultier being a Cannes jury member this year it sure upped the fashion-anti.
(Photo: Getty Images)
Kirsten Dunst arrives for the screening of her new movie "On The Road". This simply elegant dress can easily be replicated by using this A-line dress pattern. It possesses a similar neckline, all you have to do is lengthen the hemline to the floor and add a statement belt for a look that is truly Kirsten!
(Photo: Getty Images)
This silver embroidered dress is worn by Eve Mavrakis to the Filmmakers dinner, it is an elegant yet comfy looking dress. To get this relaxed fit style we chose our Shakira dress, a plus size pattern. Just omit the front button closure and seams and add sheer bands to the hem of the dress and sleeve to get the same look.
(Photo: Getty Images)
Wearing this bright pink dress is Tamara Al Gabbani, which she pairs with an equally colourful green sash. For this youthful style we suggest the One Shoulder Flounce Dress (on the left). To make the dress red carpet ready, just add another shoulder flounce and drop the hemline to the floor. To make the dress complete, add a matching or contrasting sash to tie around the waist.
(Photo: Getty Images)
Kristen Stewart and Kirsten Dunst in day-time looks. Kristen is wearing printed skinny trousers paired with a cool tank and an edgy black blazer while Kirsten is in a pretty lace dress with gathered sleeves. For Kristen's stylish suit we would make these summer trousers in a fun print, and this top. To complete the look make this blazer in a nice crisp black fabric. For Kirsten's soft look try sewing this little dress in a white textured lace, and just leave out the front insert and collar.
(Photo: Getty Images)
Bonnie Wright is headed to the exclusive Filmmakers Dinner wearing this sexy draped bustier gown in a soft nude satin. To get Bonnie's red carpet look we picked out the bustier dress (top right), just lengthen the hemline and omit the waist detail. You can also get this look in plus size by using our plus size bustier dress (bottom right), for this just drop the hemline and skip the shoulder strap pieces.
(Photo: Getty Images)
Chinese model Liu Wen attends a Cannes party in a floor length one shoulder gown with front cascade. We suggest making this evening gown to get a similar look. You can add a criss-cross gathered waist belt and omit one of the shoulder straps for a more replicated dress.
(Photo: Getty Images)
Petra Nemcova arrives at the Filmmakers Dinner in this sultry red dress with a front draped neckline. You can achieve this look by making this cocktail dress (right) reminiscent of Petras. Just drop the hem to the floor and add twisted fabric straps.
(Photo: Getty Images)
Here we have Lilly Becker wearing a short and sweet dress with flouncy cap sleeves. To get a similar look we picked out this little black dress (to the right), just add some fullness and flounce to the cap sleeves. For a plus size version of this look, try using our plus size shift dress (center) and add flounces. Even though this dress is worn on the red carpet, we think that it is perfect for day-time too!
(Photo: Getty Images)
Delphine Chaneac decided to wear a suit to attend the premiere of "Like Someone in Love" at Cannes, and we love it! You can easily dress like Delphine by making this cropped jacket pattern in a crisp white linen. Cut the facings in a white satin for that shiny lapel look. We choose these classic trousers for the bottoms, just make sure to make them in a matching white fabric!
(Photo: Getty Images)
Chinese actress Li Bingbing wears a gorgeous deep teal gown to the screening of "Vous n'avez encore rien vu !". To get this look try using our Drapé Dress pattern (left). For a red carpet impression just lengthen the hemline of our dress to the floor and add more shoulder ruffles for a dramatic effect.
Who do you think had the best look?