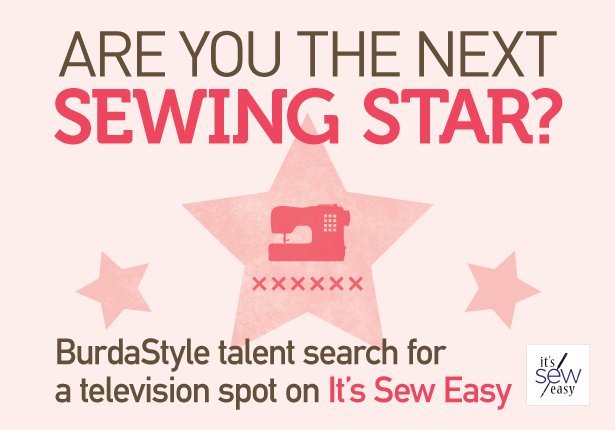 ShareThis
It's Sew Easy, the new television program to be broadcast nationally (in the United States) on Public Television, is looking for a BurdaStyle member to star in a 10 minute television spot instructing a national audience on a BurdaStyle sewing project!
We are holding auditions via video submissions. This talent search is open to all BurdaStyle members!
One lucky winner will be representing the BurdaStyle community on national television and must be available for the taping held the week of March 7, 2011 on location in Ohio, USA. Travel and accommodation will be provided by BurdaStyle.
How to Enter:
1. Create a short submission video (3 minutes or less). Please use this script for your video submission. We want to see your personality shine through our script.
2. Email submissions[at]BurdaStyle[dot]com with the subject "BurdaStyle Talent Search" and include the following:
- Link to your submission video (hosted on YouTube, Vimeo, etc.)
- Current resume listing related work experience and education
- Link your online portfolio, blog, and/or BurdaStyle profile
- Current high resolution photo of yourself.
Submissions deadline is Monday, January 24th, at 10AM EST.
The BurdaStyle team and It's Sew Easy show producers will be choosing a winner based on the following qualities:
-Mediagenic
-Good energy
-Fearlessness
-Proficient on a sewing machine
-A bright and shining personality
-Strong teaching and communication skills
-Clear and easy to understand speaking voice (Must be in English, accents are ok!)
The winner will be contacted via email by BurdaStyle on or before February 7, 2011. The community will have to wait until the episode airs in July to see the winner!
This contest is open to all BurdaStyle members. See official rules here. Good Luck!