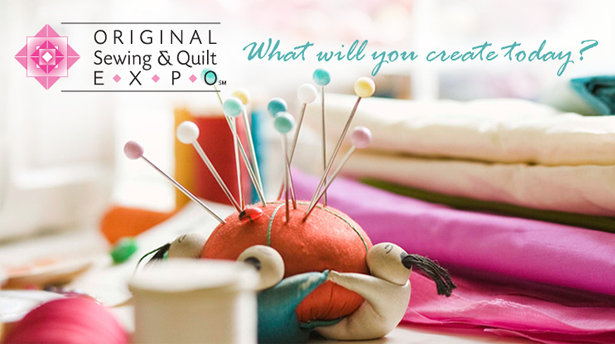 ShareThis
Hi BurdaStylers! If you find yourself in the Chicago area October 13 – 15 2016 then you need to check out the Original Sewing and Quilt Expo at the Schaumburg Convention Center! BurdaStyle will have a booth with live pattern demos, digital pattern how-tos, a fashion show, and classes. Read on to see how you can register for one of my classes at the event…
I can't express enough how excited I am to travel and meet sewers in person! This is the first live event we have done in a very long time, and my first in-person appearance at an expo.
I'm going to be bringing a bunch of the garments I have made from my studio for browsing in the booth. We are going to have a lot of printed patterns and croquis for you to practice on as well as ask us questions. It will be so much fun!
The most exciting part about this event is that we were sent original garments from the magazine! Germany sent us tons of great looks (just some of them below) to walk down the runway. Then we will have a Q & A where you can ask questions about the garments.

Shift Dress with Side Pockets; Halter Dress with Ruffles; Short Jumpsuit; Side Button Up Cape
I'll also be teaching one lecture and two hands-on drafting classes! Read more and register for them by clicking on the images below.
The great advantage of digital patterns is of course immediate access to begin your project, 24/7, no trips to the store or waiting for delivery. Learn all about working with digital sewing patterns, from printing to assembly to making modifications before cutting. Meg will walk through the steps with you, sharing her favorite tips and taking questions along the way. During her demonstration, Meg will share easy changes you can make to the patterns, including changes to the neckline, rotating a dart and adding style lines to incorporate several different fabrics within a garment. Bonus: take a few patterns home with you for practicing these new techniques! Reserve your space here.
Learn how to properly measure yourself for creating your own skirt pattern based on those measurements. Working together with Meg and fellow students, take those personal body measurements; then, using rulers, pattern paper and a bit of easy math, create your own skirt pattern! This pattern is called a sloper: it is the template pattern used to establish fit, and then to use further as the base for many other skirt styles. If you want a skirt pattern that is specially crafted to your own measurements and fits you perfectly, be sure to join this class! Reserve your space here.
Use a basic skirt pattern to create new patterns in a variety of skirt styles. You are welcome to bring your custom-drafted skirt pattern from Pattern Drafting 101, or you may use skirt patterns available in a variety of sizes in class. Walk through various pattern-making techniques, like rotating darts, adding fullness and style lines and changing the silhouette of the skirt. By the end of class your eyes will have opened to all the design possibilities, as you become confident in your ability to transform just one skirt pattern into a wardrobe of styles. Reserve your spot here.
Even if you don't register for a class, stop by and say hello!
See you in October!