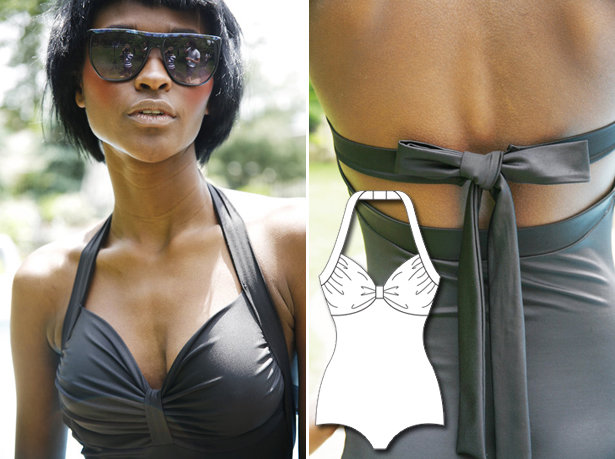 ShareThis
Now until the end of June if you purchase our vintage-style Alison Bathing Suit you will get the corresponding Alison Web Seminar for FREE! Sewing yourself a bathing suit for the summer couldn't be any easier (and cheaper) with this limited time promotion. You'll get a pattern and a 60 min Web Seminar recording of how to sew and even modify the style and fit of this popular pattern for only $3.99.
Above you'll find some screen grabs of the Web Seminar that will take you through every step of sewing your perfect retro styled maillot for the summer. I had a lot of fun making and presenting this Web Seminar and it resulted in my fabulous Universe Bathing Suit project.
I love sewing swimwear, active wear, legging, and really anything with spandex because of all the fun and bright prints you can get them in. Sewing with spandex is also my specialty, as I love using my serger and coverstitch machine. But you don't necessarily need a serger and/or coverstitch machine to sew spandex, you can use different settings on your regular sewing machine to make sure that the stitch stretches with the fabric.
The Alison suit is super cute, and flattering on the body. I love the gathered bust area and the back strap. What I love about the Alison suit as well is the ability to panel different spandex fabrics together. I purchase all my awesome spandex from Spandex House, and below I have inserted some swatches to experiment with various combinations. I am really liking the middle suit, and I think I'm going to order that fabric right now…
If you want to learn how to input fabric swatches into technical drawings like I did above, check out this video to learn how! It is such a handy thing to know when planing out sewing projects.
Steps to get your FREE Alison Web Seminar
- Purchase the Alison pattern here
- Open the SEWING INSTRUCTIONS and at the TOP of the page you'll find the code
- Go to the Web Seminar page here and add to cart
- When checking out to get your free Web Seminar recording enter in your code and the credit card number as below:
- You will be EMAILED the Web Seminar recording link
- Enjoy, and sew yourself a swimsuit!
Remember you only have until June 30 11:59PM EST to get your free Web Seminar with pattern purchase.
Happy sewing, and remember to post your final Alison projects!
Meg