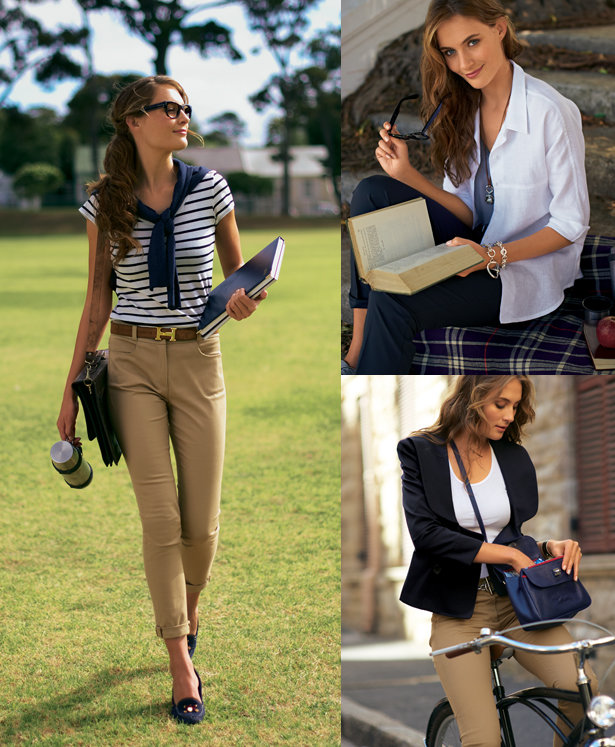 ShareThis
Fill out your wardrobe with basics every woman needs: slim fit khakis, an interesting blazer, striped tank, and white blouse. These patterns are from the July 2010 issue of Burda Style magazine. All instructions to previously published patterns have been updated.
Pare down your work look with a pair of straight cut Skinny Khaki Pants. You can style them in so many ways, from casual to business. Use a fabric with some stretch for the best fit.
This Wide Lapel Cropped Jacket gets a soft and feminine look from a rounded collar instead of traditional pointed lapels. Dress up a white tank and khakis with this unusual take on the schoolboy blazer.
This Skirt with Pockets will instantly pull your look together. Pockets are hidden at the seams and the back has a little pleat so you can wear this skirt all day at the office. A thin waistband adds polish.
Slim Fit Striped Trousers in a summery blue and white stripe are a preppy summer essential. Throw on a white tee and sandals for afternoons in the sun. With a crisp white blouse, they're perfect for the office.
Simply twist the fabric for a swingy bubble silhouette in this easy jersey skirt. The doubled fabric gives plenty of movement for a fun change from pencil skirts.
A sporty Top with Crisscross Straps can go under anything. Wear it to work out or slip it under a blazer as a camisole.
Build endless outfits with a basic Three Quarter Sleeve Blouse. This top is a true basic without pockets or cuffs, just a traditional collar and a seam at the bust. It drapes nicely to wear with jeans or leggings.
High Waisted Trousers with wide legs flatter most figures. This cut lengthens your legs and is designed for tall figures. Rolled cuffs are a subtle menswear detail, and a side zip keeps the waist looking streamlined.
These designs are the building blocks for so many looks, whether your style is preppy and polished or edgy and trendy. Rotate them in with your favorite pieces for endless possibilities.
Happy sewing!