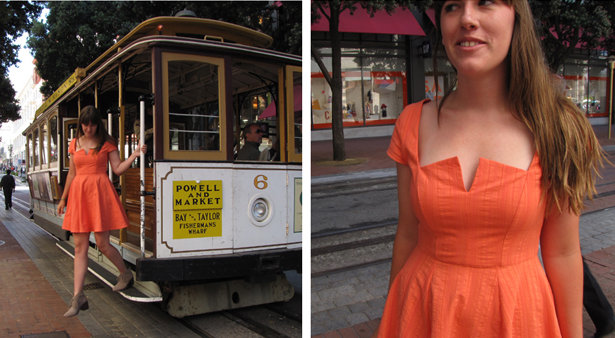 ShareThis
Recently, I was asked by BurdaStyle and Britex Fabrics in San Francisco to work with them on a collaboration project, and of course I jumped at the chance!
The first BurdaStyle pattern that came to mind is the one that I ended up choosing. I have had my eye on the cut-out neckline dress pattern from the October 2010 issue of burda style magazine ever since BurdaStyle posted a version of the dress made from Liberty Art Fabric. The cut-out neckline is unique and intriguing, so I knew right away that I wanted to give it a try for this project. I kept the bodice and cap sleeves of the pattern, but swapped the full skirt of the pattern for a self-drafted 3/4 circle skirt for a lighter look.




After deciding on the dress pattern, I browsed the stretch cotton section of the Britex Fabrics website, and I was instantly attracted to the vibrant color and subtle stripes of the watermelon sherbet fabric. With my fabric choice in mind, I headed over to San Francisco for my first, but definitely not my last, visit to Britex Fabrics. The store is an impressive four stories, full of fabric and notions that would make any seamstress drool. I was offered some swatches to look through, but I knew my heart was set on the watermelon sherbet striped stretch cotton.

If you are more of a visual learner, I would definitely recommend starting with sewing a practice dress since the pattern has all written instructions. I had a bit of difficulty with the instructions on installing the cap sleeves, but at least my seam ripping corrections were made and figured out with the practice fabric.




After completing a practice bodice, I felt apprehensive when starting to work with the stretch cotton. I haven't worked with stretch fabric much before. However, I found that the moderate stretch of the fabric was easy to work with. Plus, having that bit of stretch allowed me to make the bodice fitted, but still comfortable to move around in.

This dress was a fun project to put together, and is even more fun to wear! The bright color and the unique neckline make it the perfect summer dress to wear on a warm afternoon! View my project here for more detailed instructions.

Natasha from the sewing blog NattyJaneSews made this summer-licious frock from Britex Fabrics Italian stretch cotton and sewing pattern #116 from our October 2010 issue of burda style magazine. Natasha is a self-taught seamstress, hails from Berkeley, and is featured in The BurdaStyle Sewing Handbook.