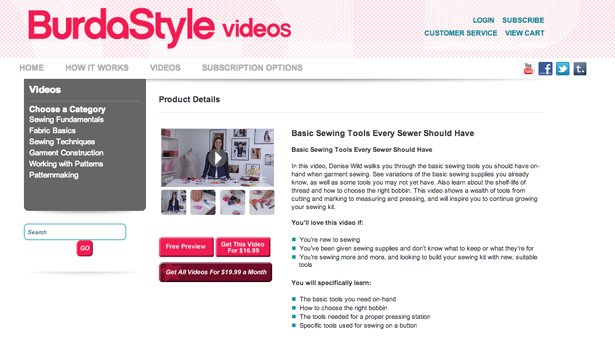 ShareThis
We're so excited to announce the launch of our new BurdaStyle Videos streaming video site! With new videos added weekly, BurdaStyle Videos has all the sewing, fashion, and DIY inspiration and instruction you'll ever need.
Join your favorite BurdaStyle editors on our brand new video site. BurdaStyle Videos offers access to a library of high quality instructional sewing videos, starting as low as $19.99 a month for everything from fundamentals to advanced tutorials and techniques. You can stream the videos on your PC or Mac computer, or take it on the go with the latest generation iPhone, Kindle Fire, iPod Touch and iPad. You can even watch BurdaStyle videos on your living room TV, from an iPhone or iPad with AirPlay & the latest AppleTV!
We hope you love our new videos site as much as we do! We'll be launching new videos weekly, giving you tips and techniques to better your sewing. You can watch high quality tutorial videos for every skill level— whether you're sewing your very first project or starting your own business. Head on over to BurdaStyle Videos now to check out the site and preview our first videos.
You can purchase videos individually, or score a great deal by subscribing!
Sew on!