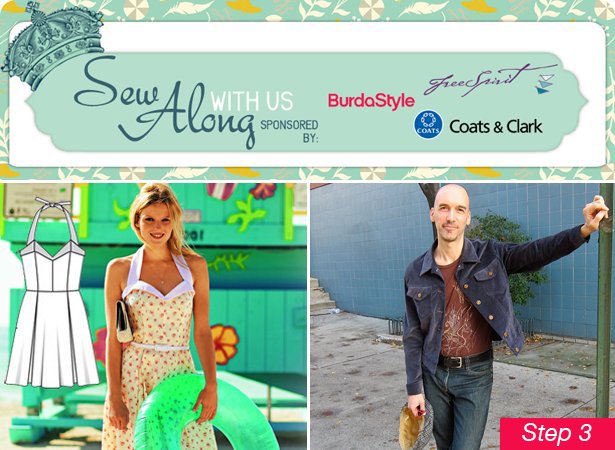 ShareThis
We're about half way through our September Sew Along with our friends at Coats & Clark, FreeSpirit Fabrics and Tula Pink. Have you started your garment yet?
This week, Peter continues with his Halter Dress Pattern, moving on from the bodice to construct the skirt. Click through for Peter's continued instructions and stay tuned for one more week of steps and instructions as we close out National Sewing Month in style!
Hello, BurdaStyle, readers, and welcome to the third installment of our sew-along for Halter Dress Pattern #116!
Today we are going to focus on making our pleated skirt, and we have the benefit of Gretchen's excellent skirt tutorial (for what is, essentially, the same skirt) from last week.
On the printed pattern, the skirt and underlay pattern pieces are long enough to reach the floor and I want this dress to be approximately knee-length (my model/muse, Leah, is 5'4" and we want the hem to end 19" from the floor). So my first step is to trim down the pattern a lot. Depending on how you want to finish the bottom (a wide hem, a facing, etc), you may want to leave a few extra inches; they can always be trimmed later, but cannot be added back.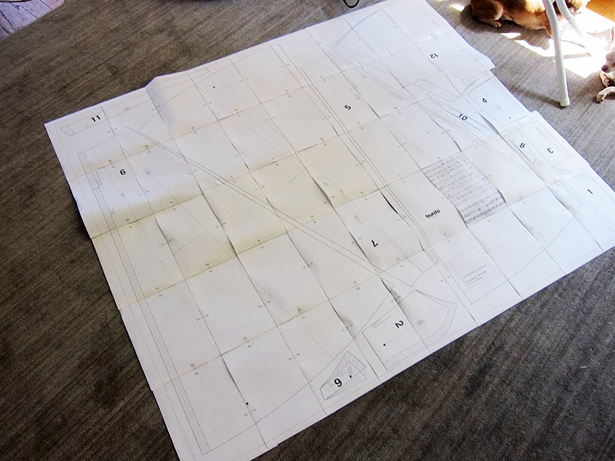 Here's how much length I cut off each skirt and underlay panel piece: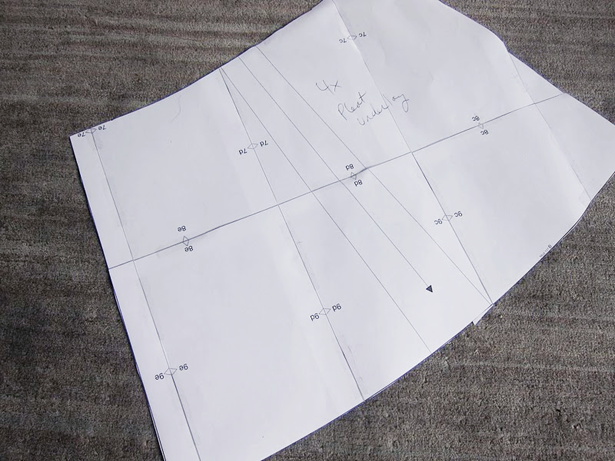 Now here's a new twist to those of you who remember my earlier posts; my original plan was to cut the skirt pieces out of the cornflower blue fabric, and the underlay out of the contrasting floral, which I thought would add an element of fun.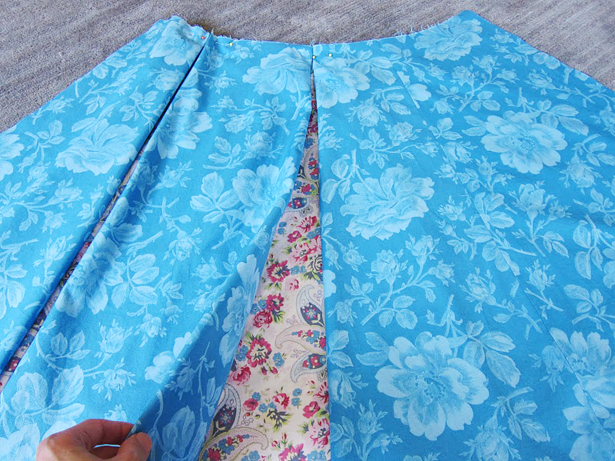 Readers, I changed my mind (and don't ever be afraid to change yours)! Sometimes our original idea doesn't look as good in the execution. At risk of getting ahead of myself, here's what the skirt looked like when I attached the bodice. I didn't like it.
I made an executive decision to remake the skirt using just the cornflower blue fabric. It meant ripping out a lot of seams, but I'm glad I did.
The skirt has six outer panels (two on either side, one center front, and one center back (the latter two cut on the fold). In addition, there are four underlay panels. Essentially, all the panels are sewn together and the outer skirt panels are folded atop the underlay panels, meeting at the center of each.
The pleat folds are marked on the pattern pieces; the underlay pattern piece shows precisely where those pleat folds should rest. Pressing those folds beforehand can make assembling the skirt much easier. However, I chose NOT to press first and here's why: my cotton fabric is very sensitive to pressing (as well as ironing) — once pressed in, these folds will not press out without leaving a visible mark. Should the skirt drape differently on Leah, those folds will remain pressed (and stiff). I also want the skirt to have a looser, more flowing look, and pressing those pleats flat won't allow that with the fabric I'm working with.
What choice should you make? Consider your fabric: if you need to re-press a pleat, can you, without the old pleat line showing?
On my skirt, I press my pleats only where they come together at the waistline and not down their entire length. I then pin them carefully to the underlay beneath.
As you can see, this gives the skirt more fluid lines.
But it also makes assembling the skirt a little more challenging. Remember that each pleat panel will fold to the center of each underlay panel. After I pin and press, I stay stitch the pleat-and-underlay layers together.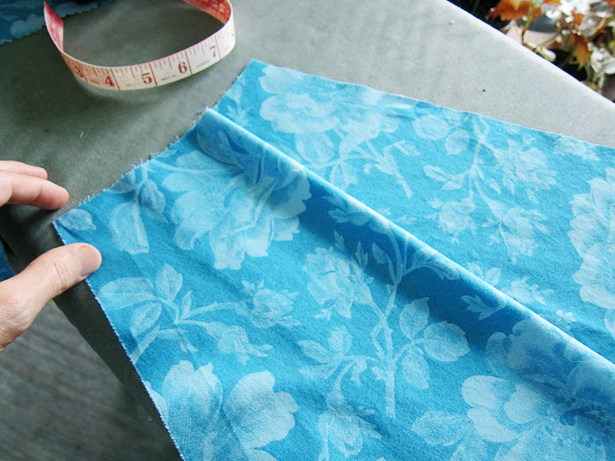 In making bodice adjustments for Leah, I have narrowed the back center panel. Since I want my bodice and skirt seams to line up. This means narrowing the back center pleat, which also means trimming the width of the back center skirt panel and its adjacent underlay panel.
Can you see why those seams should line up?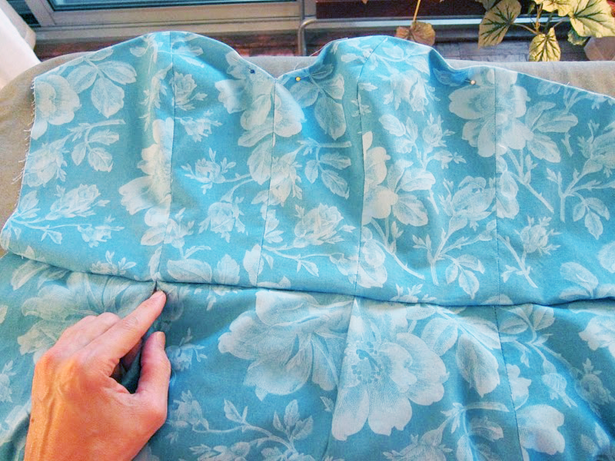 The seam allowances can be finished in a number of ways. The skirt is cut on the bias and on my fabric, at least, is not apt to fray. You can serge the seams allowances, but be sure the serged seam isn't so thick that it will show through the fashion fabric when you iron it. You can also pink your seam allowances. The choice is yours.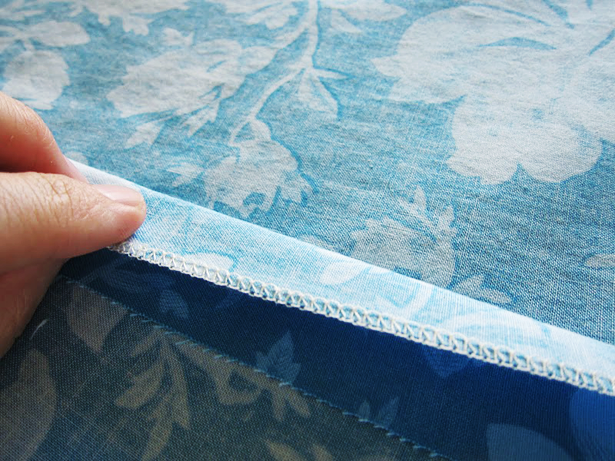 The seams connecting skirt and underlay panels should be pressed flat (not open), to allow the pleated skirt panels to lay over it cleanly.
Finally, after completing the skirt, I add twill tape to the top edge to make the skirt easier to handle moving forward, and less likely to stretch.
That's all for now, sew-alongers! I think the skirt is beautiful but it's a little tricky, especially if changes in the panel widths are called for. Take it slow and steady.
Next time, we'll attach our skirt to our bodice!
How are you doing so far?
~Peter