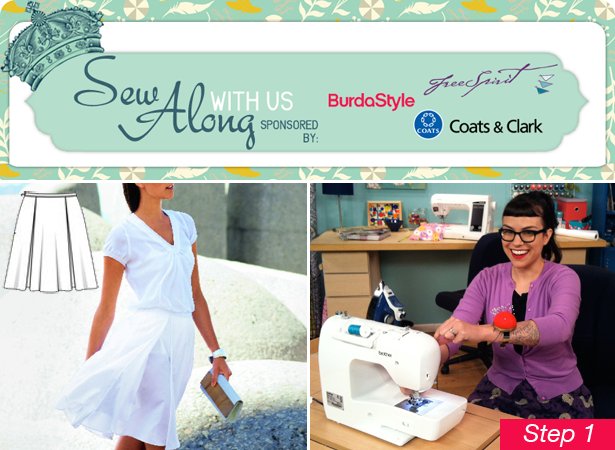 ShareThis
For the month of September we're hosting a Sew Along with our good friends at Coats & Clark, FreeSpirit Fabrics and Tula Pink. Each week we'll be posting steps for our Skirt with Front Pleats courtesy of Gretchen Hirsch! Click through for Gretchen's instructions to get started on this beginner-friendly project and stay tuned for more steps and info throughout September!
Gretchen Hirsch's Step 1:
Hello all, and welcome to the skirt sew-along!
The pattern we're using is a cute skirt with front pleats, so the first thing you need to do is download and print out the pattern. This project is novice level, so I'll be keeping things pretty basic. If you're a newbie at sewing, now's the time to jump in!
The Pattern
Print out your pattern, tape it together and find pieces 5, 6, and 7. These are the only pieces you'll need for this skirt. Important! You'll need to mark your own hem length. For some reason, the cutting line for this style makes the finished length 42-1/4" which is floor length on me! I wanted my skirt to be about 22", so I marked down 2" from the hem line for skirt A. Make sense?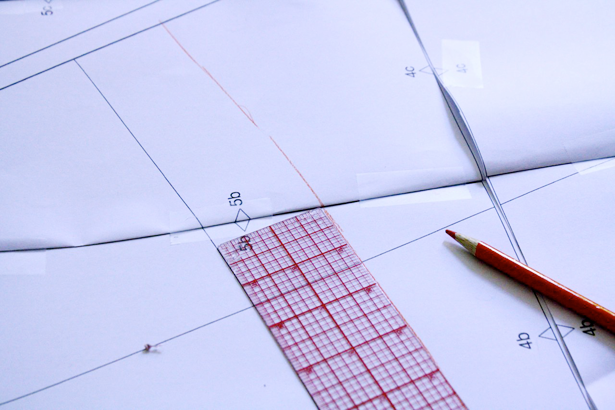 Also, if you have cats, be warned: they love this part!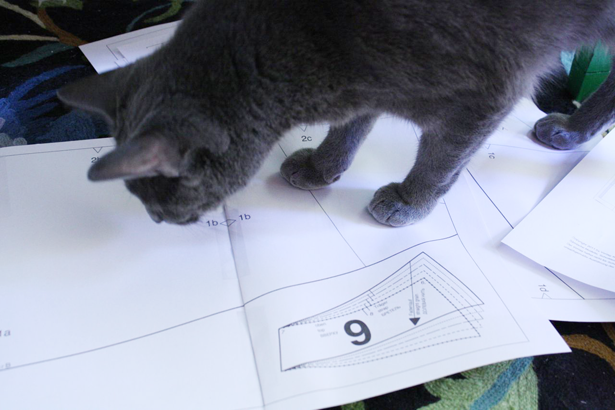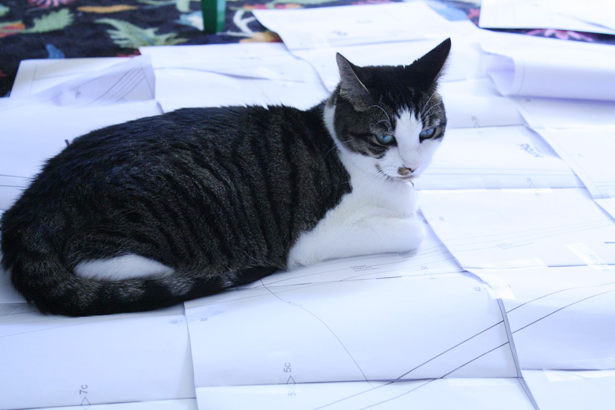 Sizing
Now you'll cut out your pattern pieces. But first things first: figure out what size you are. For a relatively full skirt like this one, the most important measurement is your waist. Measure yourself at your natural waistline, keeping the measuring tape taut and snug. (If you're not sure where your natural waistline is, bend from side to side—like a little teapot! Where your side dips in as you bend is your natural waistline.)
Now find the size closest to your measurement on the size chart. I would recommend rounding up rather than down. We'll do a fitting midway through construction to make sure the skirt fits your perfectly. Feel free to check your hip measurement as well, but unless you have a major difference in sizes between your waist and hips, don't worry too much about the hip measurement. This skirt has very full hips and isn't intended to be close-fitting there.
Supplies
To make this skirt 22" long, you'll need about 4 yards of 45" wide fabric, 2 yards of ¾" grosgrain ribbon for the waistband, thread to match, and a 9" invisible zipper (as well as your regular sewing supplies—your sewing machine, pins, shears, a seam ripper, etc.). If you don't like the idea of a grosgrain waistband, never fear! I'll show you how to make a regular waistband for this skirt in the coming weeks.
A medium weight cotton is perfect for this skirt. As you'll see, I'm experimenting with vertical stripes on my version, but a solid or simple print would be easier if you're feeling less adventurous (I confess I'm not entirely sure how the stripes will look with the pleats, but I'm excited to find out!).
Cutting
Now it's time to lay out your fabric. Press your fabric and lay it out smoothly. Normally, you would use a double layer of fabric to cut out this skirt. But if you want to speed up the cutting process (and who doesn't?!) you can use a quadruple layer. This means you'll layer two double-layer lengths of fabric on top of each other.
You need to be sure that the selvages match perfectly and that the two folds are exactly on top of each other. Now we're going to place our pattern pieces. Lay out each pattern piece once on your quadruple-layer fabric, and pin in place.
Note: this pattern doesn't have seam allowances, so we're going to draw them on as we go. Just use a ruler to mark out 5/8" from the pattern line and cut there.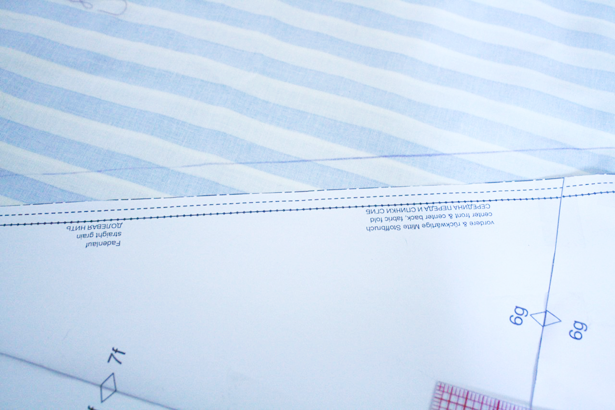 Marking
It's important to mark the pleat lines on this pattern, so use some dressmaker's tracing paper and a tracing wheel to transfer the lines to the wrong side of your fabric pieces. Don't forget that you have extra layers to transfer marks to!
Okay, I think that's enough for this week. Get all your pieces cut out and marked, and we'll start sewing next week. See you then!
~Gretchen