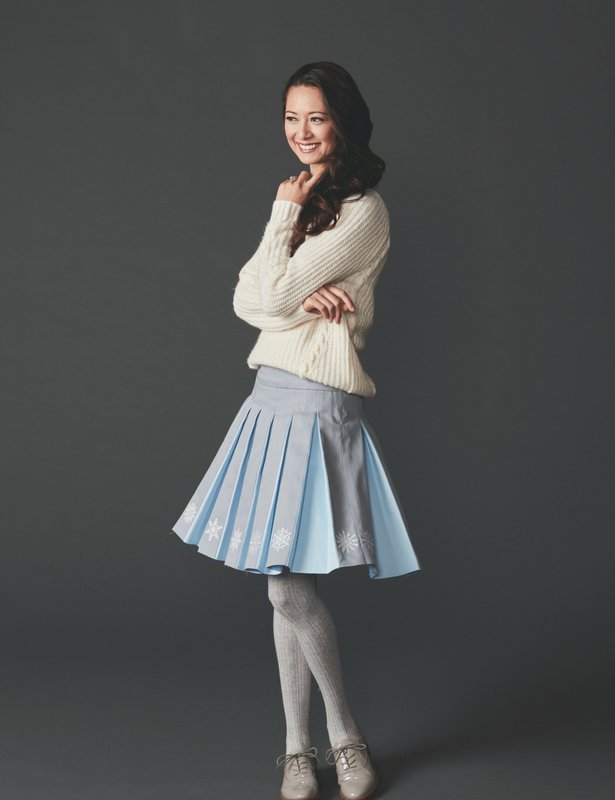 ShareThis
Our friends over at CME which stands for Creative Machine Embroidery have featured a ton of BurdaStyle patterns in their recent issues. The publication is all about machine embroidery and I love how to see how BurdaStyle patterns are made and embellished further with a little something special… like embroidery. Read on to see some of their latest BurdaStyle projects.
In their current November / December issue they sewed up our Pleated Cheerleader skirt pattern and added some festive snowflake embroidery to it.

This BurdaStyle pattern also has another variation, our Pleated Skirt both from the 09/2017 issue. I actually got to see the maroon and green version in person as it was shipped to us along with a bunch of other garments from the magazine for our Original Sewing and Quilt Expo recent appearance! I love how it was made up in CME, gives it a nice wintery touch while also playing on the panels and inset pleats that allow for fabric paneling.



In their previous September / October issue they featured our Boho Dress pattern. I love how they altered the length and played up the panel with contrasting fabric and embroidery.



Embroidery can really make a handmade garment look extra special, professional, and store bought! This project can again be found in this issue.



From the same CME September / October issue they did a lingerie spread with garments all made from our Sew and Draft your own Lingerie Collection Course! And the pieces within the magazine were crafted by Katrina Walker, a fellow instructor on BurdaStyle academy. The embroidery really takes these lingerie pieces to the next level.



Register for the course today and learn how to make everything needed in your unmentionables drawer. You'll be taught how to both draft AND sew a bra with underwire, panties, a slip, and a robe like the one pictured above.



Also wanted to give you guys a sneak peek at these projects that are going to be in the next issue of Creative Machine Embroidery! I just love these so much, and I'm going to ask for that embroidery design to re create those pants. For the pants they actually used our Pajama Pants pattern, and did a fabulous job at making them look not like PJs. Then that coat, it was made using our Menswear Long Coat pattern. Look out for the next issue to see how you can re-create these for yourself!



Lastly I wanted to plug in the leggings I made for the sister publication Sew News magazine! These leggings were for my Pattern Play column that I do in each issue. The column in all about me taking a BurdaStyle pattern and playing on the pattern to make a complimentary modification to it!



For this one I used our Lace Leggings pattern and added a bunch of panels to make them edgy and on-trend. Love how they turned out, and always enjoy sewing up some leggings.


Just wanted to share all the cool things are friends at Sew News and CME are sewing up using BurdaStyle patterns! The more ways I see a pattern the more I get inspired to sew.
Happy Sewing!
Meg