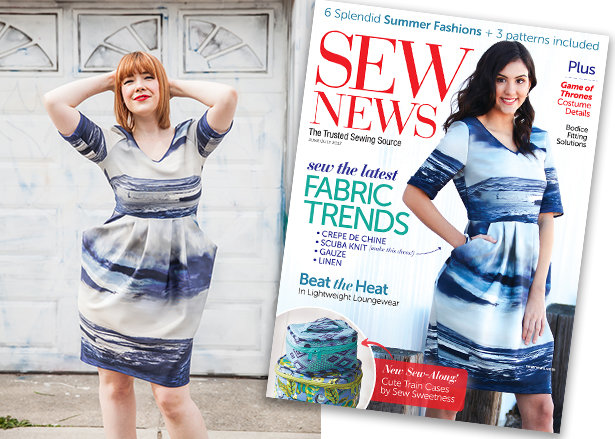 ShareThis
With great excitement, I'm happy to announce that my BurdaStyle dress project made the cover of the latest issue of Sew News Magazine! I have been loving writing my Pattern Play column for the magazine and was thrilled to see my version of our Fancy Pocket Dress featured. Read on learn more about the modifications I did to the pattern…

Inside the column I write about how to transform a sewing pattern meant for woven to suit knit fabrics. Then I also cover three different sleeve variations you can do the dress pattern including adding gathered, making it sleeveless and then how to add a cuff which is the sleeve I chose to go with for my project.
I just love this silhouette so much I plan on making a long sleeve one (like the pattern) for Fall and then another sleeveless variation for the hot summer.



What is best about my Pattern Play column is not only do I go over a pattern modification, but I also give my sewing strategy for the pattern. I also always include a special coupon code to download the pattern at a discount.

Issue hits newsstands May 16th (today)!



As soon as we published our Fancy Pocket Dress pattern I knew I had to make it. I wore this dress out last Saturday evening and those pockets saved me as they were perfect for placing my phone and lipstick in.



Click here to see more images of me wearing this amazing dress. Comment below if you have made this pattern before, as I would love to see other variations.
Happy Sewing!
Meg