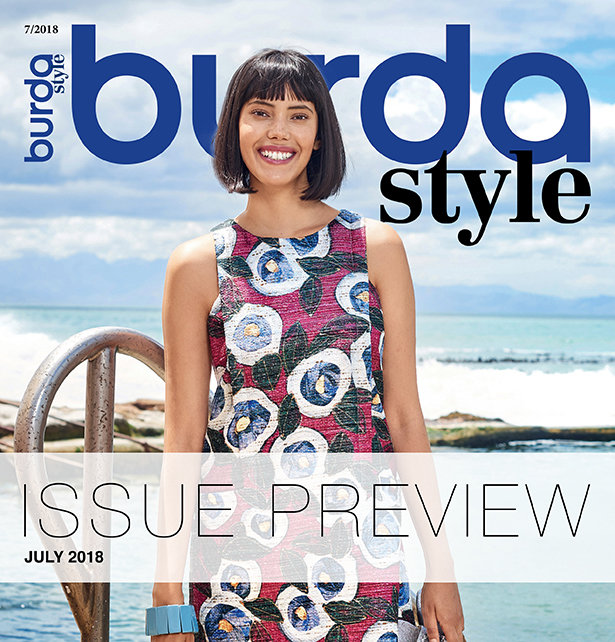 ShareThis
The 07/2018 issue digital preview is now live – and summer is officially here! This issue is filled with casual beach fashions, cool city styles, and even travel outfit patterns that will help you beat the summer heat. There is even a brand new bikini pattern and retro restyle skirt! Read on to flip through the July 2018 issue of BurdaStyle magazine and shop every pattern to become truly summer ready.

Click the above image to have the lookbook pop out for the full digital magazine experience – or flip through the embedded book below.



Each issue we also release each collection as a bundle as part of the lookbook launch, so if you want to sew up every style in a collection you can purchase in bulk at a discount! Click the collections below to shop the bundles.



Feminine cuts that shift easily for summer fun are sewn with exotic prints and lightweight fabrics. These styles are a welcome breeze to put you in the mood to travel from the start of sewing.



Sometimes serious and sometimes chilled: These outfits in trendy shades of aqua add a fresh touch to the wardrobe that lasts from morning meetings through after-work socializing.



A-Line dresses, jacquard fabrics and candy colors – combined with clean lines and playful prints add an extra dose of lively elegance with a nod to the sixties.



These plus size dresses, blouses and trousers stand out. Fantastic details as well as breezy cotton and linen fabrics make these modern styles for the season ones that work for the office and leisure, too!



These styles are relaxed, comfortable and quick to put together – perfect for a holiday along the shoreline!
Which patterns do you plan on sewing from this issue?