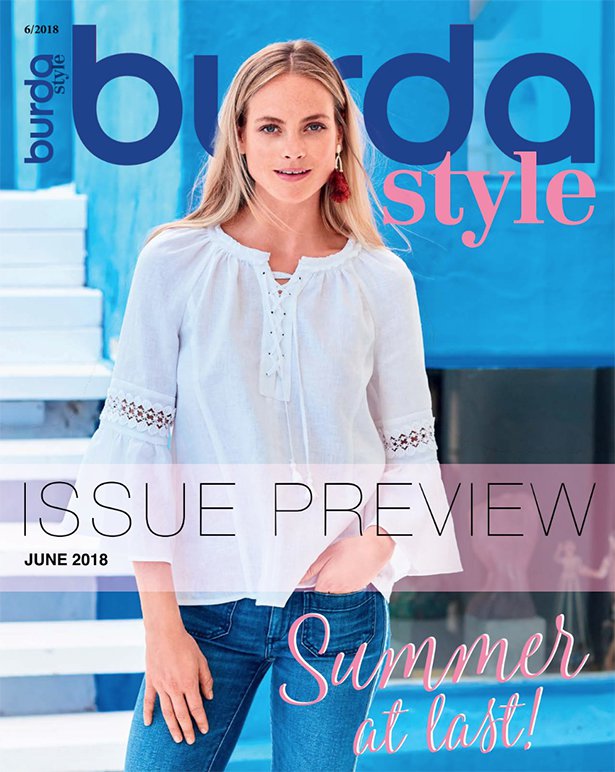 ShareThis
The 06/2018 issue digital preview is now live! This issue is all about vacation style – whether you are headed somewhere hot and tropical, or even "stay-cationing" by a pool, the styles here will have you covered. There are even new men's patterns! Read on to flip through the magic that is the June 2018 issue of BurdaStyle magazine and shop every pattern to really kickstart your summer sewing…

Click the above image to have the lookbook pop out for the full digital magazine experience – or flip through the embedded book below.



Each issue we also release each collection as a bundle as part of the lookbook launch, so if you want to sew up every style in a collection you can purchase in bulk at a discount! Click the collections below to shop the bundles.



Dreamy against the skin and incredibly breezy for hot days: Linen is the on-trend fabric of the season and we celebrate it herewith clean cuts and lots of volume.



Candy colors, tropical prints and languid cuts are jam-packed with travel spirit – and when combined with cool basics, they can also bring a good-mood vibe to the office.



Wow! Breezy fabrics in a refreshing blue and white, embroidered linen touches, crochet elements and tile prints feels like a holiday in Santorini with a perfect summer mix for the whole family.



Fresh business looks get a twist of extra class. These outfits combine fashionable stripe and dot designs with pure and feminine cuts and unexpected details.
Which patterns do you plan on making from this issue? We love the knotted bodysuit from the Miami Vibes collection!