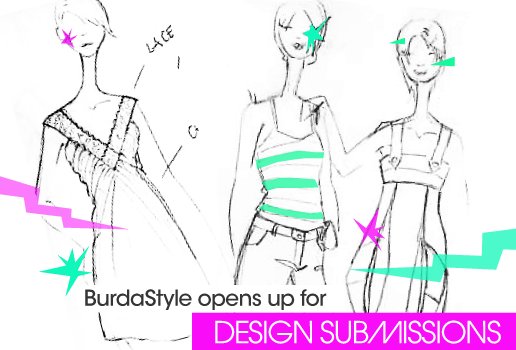 ShareThis
BurdaStyle is open for your design submissions!
You are the talent and we want to give you even more room to show it.
Starting immediately we will at all times accept design submissions. Any time you have a fabulous idea for a new piece, send in a sketch of the piece from the front and back as well as a technical drawing. Think about why that piece is not only a perfect design for you, but for all other members on BurdaStyle and write it up in a short essay. Make sure to mention what category you are designing for (men, women's, women's plus, children, accessories) and what fabrics you had in mind.
Your design will be produced into a real Burda pattern, famous for its fit! Please keep in mind, producing one pattern for our site is extremely cost and labor intensive. Each pattern will first be drafted in our studio, sewn up, optimized and redrafted until it reaches perfection, this process takes several months.
Afterward, we take it to Germany where it takes another couple of months to be made into a CAD pattern, graded, trued and set into a pattern pdf. While grading it the studio in Germany sews it up several times to make sure it works in all sizes. For each pattern, the German Team will create instructions and technical drawings.
Therefore, we have to choose carefully and select only the best and most versatile designs from your pool.
Submitting a design does not mean it will automatically be produced, we also don't guarantee to choose any design. Drawing on our experience, we will choose only designs that are valuable for the community and catalog. No style that could be created by altering an existing pattern will be produced. We will choose designs that are unique, stylish and of interest for our members.
If BurdaStyle chooses to produce the pattern, you will get a grant of $160 dollars. A sample of your design will be made up and shot in a professional photo shoot. You will receive pictures in high resolution that you can use to for your portfolio. You will also be proudly presented as the Designer of the pattern and eternal gratitude of the community is yours.
We are looking forward to many submissions in all categories.
Email the following to submissions(at)BurdaStyle(dot)com:



Sketch from the front and back


-Technical drawing


-Short explanation of design's value to the community


Category and recommended fabrics