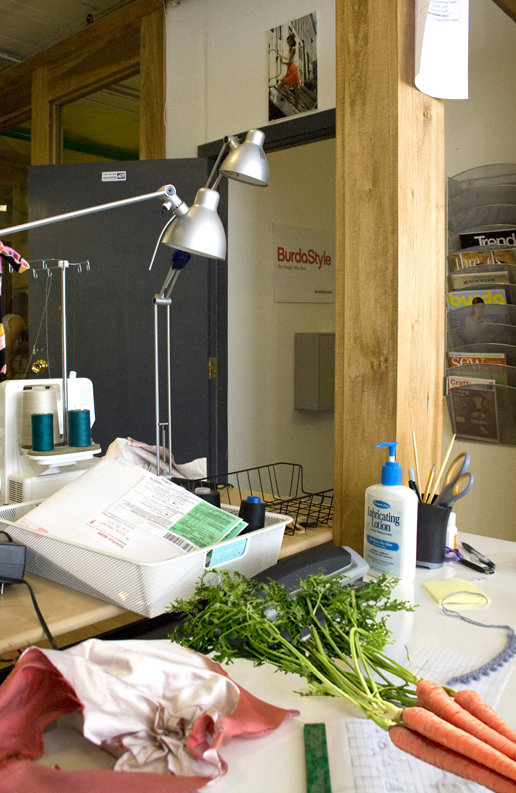 ShareThis
Hello Burdies of the world, Guten Tag, Bonjour, Hola from Burdastyle headquarters in Brooklyn.
My name is Hélène best known as CarotteSauvage on BurdaStyle.
Last January, I wrote an email to the team and asking if I could intern during the summer, sent my resume, outlined briefly what I would like to achieve or which aspect of the position would be of any interest, together with an updated CV. The answer was positive to my great delight.
In short, I have become an intern as opposed to being an extern to the site, which we all have been for the last couple of years.
Imagine… wherever you are just traversing the screensaver of your computer; we could actually shake hands right now…. Anyway, I am more than happy to ditch the PC for 5 weeks I am after all on my annual leave I love involving holidays and involved is the way that I felt as soon as I passed the doorframe, or shall I say the studio's' threshold', between the virtual and the real. I greeted Alden, Larissa the pattern wizard and all the rest of team. I saw Doryon 'in the flesh' and was relieved that she is not just a romper-playing suit; accounting is no playing matter anyway. It is not the right season , just a few weeks to go, for Hikaru to actually wear 'herself'. David, the only bloke around isn't tied to his bow tie. I wonder where Ute is, in Munich perhaps. Someone said she might be a bit stuck up, but I have the impression just by looking at the way
the collar is hemmed that she might be little shy. I wonder if Alden is happy to be a coat, I will find out soon.
[Reminder to BurdaStyle users: patterns are named after real people]
Not long after I came to term with the fact that the BurdaStyle team members were not tailored in the 'fabric of my imagination', I was given my first assignment: to write a blog. I am a bit reluctant to self indulge in the whole blogging business (that's my own opinion about it). All you are going to see from me is my hands, at work of course. The ' I' will become the 'Eye': witnessing and reporting in the most objective way the time I will spend here. I am taking the oath to fully invest in 'Hands-on' time while I intern for Burda'…Analogue style. I am already carried away probably by the Charlie bag, so would excuse me if I indulge in lyrical gibberish maybe it is the Brooklyn invigorating air …
Next post:
Looking for Charlie