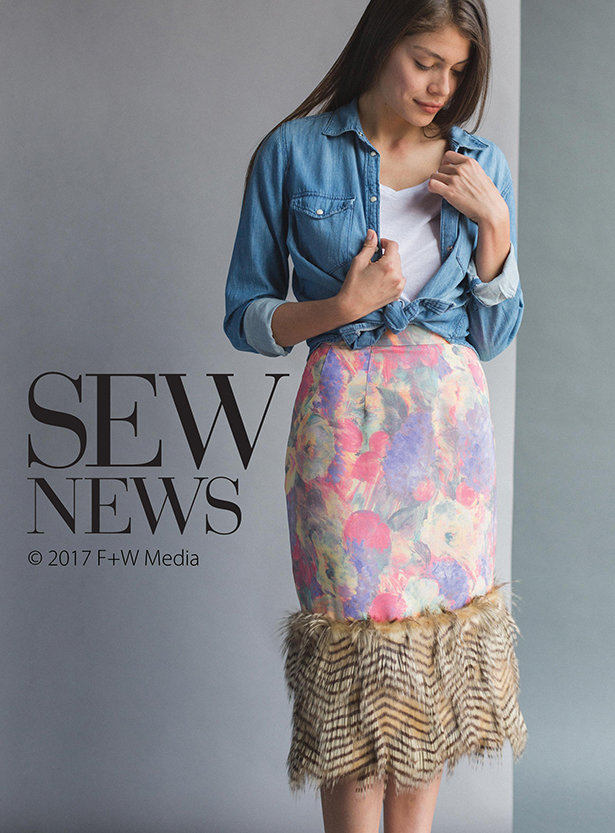 ShareThis
I just received my Dec/Jan issue of Sew News in the mail and I was so excited because I got to see my "Pattern Play" column fur-trimmed skirt project in it! This skirt has been one of my favorites that I have made for Sew News, as it is out of the box and inspired directly from fashion runway. Read on to see the inspiration behind this skirt, which BurdaStyle pattern I made it from as well as me photographed in the skirt!

I always love around the holidays all the seasonal magazines and everywhere features holiday content, so when I first looked at this cover it gave me joy that the holidays are so near! And the fact that I need to start decorating… Learn more about this issue here.



The theme as seen on the cover was "Party Skirts!" I was told this right after checking out all the Fall Ready-To-Wear shows and fell in love with Prada's Collection filled with these amazing colorful, fur-trimmed skirts. I knew right away I wanted to re-create and since I already had a stash of Shannon Fabrics faux fur, it was meant to be. You can read more behind my inspiration within the issue.



To create the skirt I used our Panel Pencil Skirt sewing pattern from the 08/2016 issue and within my Pattern Play Column (page 24 – 26) I cover how I made this skirt as well as eliminated one of the panel seams and converted to a dart. This skirt pattern was a fabulous base for my fur trim, and had a great fit to it. I even went crazy and made another one right after I finished the first floral one!
Being honest, I really made this skirt to wear to a New Year's Eve party, because I mean, this skirt just screams party skirt to me! So I just had to try it on and photograph myself in this unique skirt. As seen on the Prada runway, the use of fall florals was prevalent so when I was fabric shopping I really was on the hunt for a floral. Also the faux fur fabric I used was Shannon Fabric's Fancy Feather Fur Gold which had a high pile for maximum fashion impact. Shop faux fur fabrics here!



I also made the top I wore with this skirt and used our Shoulder Cutout Shirt from the 09/2017 and this pattern has be come my go to turtle neck pattern for the season (I have already made about 3) with and without the cutout. I love the combo of a glam, over the top skirt paired with a turtleneck! Then I tied in the animalistic nature of the fur with some animal print wedges. I love this look and it is definitely in the running to be my exact NYE outfit! What do you guys think?


Subscribe to Sew News here to never miss my Pattern Play Column where I transform a BurdaStyle pattern.
Happy Sewing!
Meg