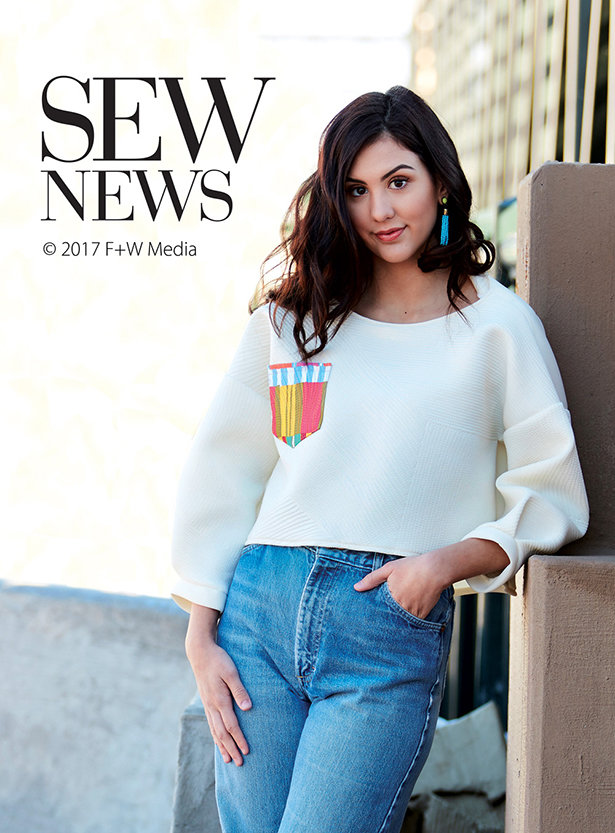 ShareThis
The latest Sew News Magazine was just released and it features my latest Pattern Play column article where I alter and quilt a BurdaStyle pattern. Read on to see which pattern I used and how you can get the magazine…

Cover of the Aug/Sept 2017 issue

It has been a delight writing for this magazine every month and altering a BurdaStyle pattern into something a little different, my last project was even featured on the cover!



For this issue, I used our Crop Sweater pattern pictured below. Within the column I go over how I altered the hemline, added a pocket, and made those quilting lines (which are my favorite part).



This was a perfect pattern to use because it had a boxy silhouette and I used a thick scuba knit for this project. Download the issue here to also receive a coupon code for the pattern!



Here is a close up up of the quilted pocket. For the pocket I cut it in a contrast printed cotton and quilted it with curved lines instead of the straight ones I did throughout the top.


Get your copy today to make your own! I have worn this top a couple of times and have gotten many compliments on it and I love how I created my own quilted textile. Have any of you (and link to projects) played with stitching and or printing to create your own unique textile for a sewing project?
Happy Sewing!
Meg