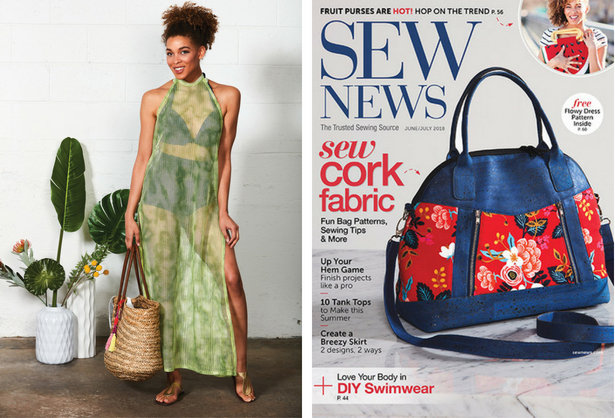 ShareThis
The latest issue of Sew News Magazine just hit newsstands and it features a ton of awesome swimwear! So for my Pattern Play column, I decided to create a cool coverup that I developed off of a BurdaStyle slip sewing pattern. A tank project I sewed up was also featured in the magazine, read on to see it…

I knew I wanted to sew a cove-up, but I couldn't find the silhouette I wanted in our Swim & Coverup category, so I sourced out a suitable pattern to adapt – that is what this column is all about! For this project I used this slip dress pattern.



Within the article I go over every drafting and sewing step to create this green0maxi version as well as a cropped coverup top with drawstring ties for the straps. Also included is a coupon code to get the digital pattern I used at a discount.



I was also asked to sew up a tank pattern for a special tank article, and I went with our Jersey Top pattern from the 02/2013 issue. This tank pattern was on my radar for a while, and I had just enough black fabric leftover from this knotted dress to make it!



The asymmetrical design and gathered wide strap is flattering for my frame, and now think I want to make another dress version with this neckline and straps.



There are a ton of tank projects photographed and made by so many members of the sewing team. Tank-a-paloozza!!
As I say everytime I post about my Pattern Play Column, I love doing these projects for every issue, and just yesterday I finished up sewing another garment for a future issue! As sewers we have the ability to change, adapt, and customize our patterns – and I'm happy to share my pattern modification experiences with you.
Happy Sewing!