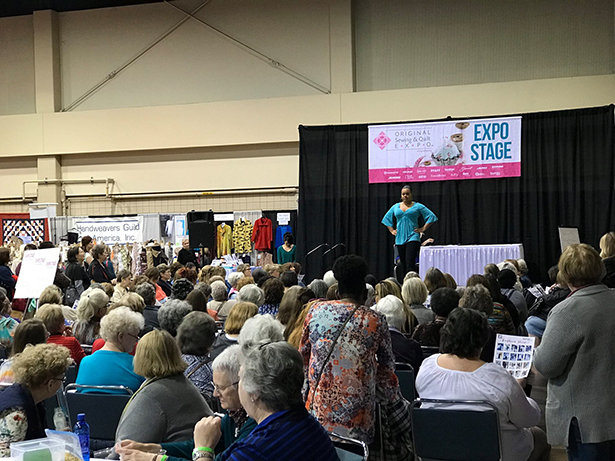 ShareThis
Hi BurdaStylers! I'm back from The Original Sewing and Quilt Expo in Atlanta and what a great show. Did you catch our Fashion Show LIVE on Facebook? If not click to view because it was a great show with garments flown in from the BurdaStyle Fashion Factory in Germany! Read on to see the fashion show program and links to all the patterns sent down the runway. Also see where we will be next!
If you didn't catch the live show you can watch it here. I cannot even describe how beautiful these garments are in person, the fabrics used are the most luxurious and really flatter all the pattern's silhouettes. Our models also did a fabulous job showing off these patterns.
Check out the program below and links to all the styles…


#1 Long Coat; #2 Plus Size Flowy Dress; #3 Gathered Back Dress; #4 Cropped Jacket & Faux Leather Pants; #5 Raglan Sleeve Coat; #6 Plus Size Draped Dress; #7 Box Pleat Skirt & Blanket Scarf; #8 Quilted Vest; #9 3/4 Sleeve Dress; #10 Long Fur Waistcoat & Faux Crocodile Purse; #11 Plus Size V Neck Tunic; #12 Structured Sweatshirt & Mini Skirt; #13 Round Coat; #14 Long Sleeve Dress; #15 Plus Size A Line Dress; #16 Gathered Blouse; #17 Long Sleeve Scuba Dress; #18 Varsity Jacket & Cheerleader Skirt; #19 Plus Size Short Sleeve Blouse; #20a Blazer.


#20b Sleeveless Blouse & Pencil Trousers; Scoop Neck Dress; #22 Plus Size Cutout Dress; #23 Ruffle Blouse & Pencil Trousers; #24 Flounce Dress; #25 V Neck Blouse & High Waist Street; #26 Plus Size Tunic Dress; #27 Lace Maxi Skirt; #28 Eyelet Blouse; #29 Midi Dress; #30 Trumpet Sleeve Blouse & High Waist Trousers; #31 Plus Size Halter Dress; #32 Bustier Crop Top & High Waisted Skirt; #33 Belted Shift Dress; #34 Peter Pan Collar Blouse; #35 Plus Size Halter Dress; #36 Cuffed Sleeve Shirt & Bermuda Shorts; #37 Cap Sleeve Maxi Dress; #38 Cropped Blouse & Pleated Shorts; #39 Plus Size Maxi Dress; #40 Cutout Dress; #41 Summer Shift Dress; #42 Halter Maxi Dress.
In additional to the BurdaStyle fashion show I also held daily trunk shows and got to meet BurdaStylers in person! Friday was "Wear your BurdaStyle Day" so everyone who wore their sewn BurdaStyle patterns got a special pin and present from me.
My favorite part of these expos is meeting everyone and being surrounded by so many sewists. I love talking to everyone and answering their questions about BurdaStyle and sewing in general, so if you find yourself in an expo city I encourage you to come out and say hello!
Here is a picture of Ty our amazing Community Manager working the Burda booth and educating expo goers about our digital patterns. Ty and I even had a chance to walk around and purchased some fabric for a special project I'm working on for us.
Here is where we will be travelling to next:
I'm also teaching two daily lectures in Lakeland and Cleveland about digital sewing patterns, drafting your own skirt sloper, and athleisure.
See you there!
Meg