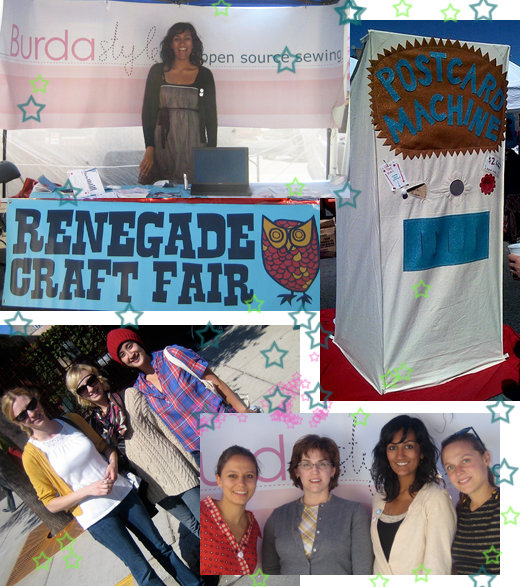 ShareThis
We just returned from our first field day – the Renegade Craft Fair in Chicago!
Thank you Chicago for making our visit so pleasant (everyone is so friendly there!) and thank you Renegade, for the great organization!
Besides talking to people about our site and giving away our new little pins, measurement- and postcards we used our time to see what's the DIY fashion up to – you can see that in Benedikta's Renegade collage above!
We also met Erin McKean from A Dress A Day, our beloved vintage blog. And we can let you in on a secret: Erin will start in October to write a column on BurdaStyle about trends and elements of vintage clothing in the 20th century! As a lexicographer, she also has got some exciting ideas for our Sewpedia, so stay tuned! You see her in the picture with a grey cardigan and a self made dress amidst our team.
We made friends with sublime stitching and checked out the booth of Venus who put up a contest where you can win sewing machines!
Benedikta bought a wonderful bag from our sweet neighbor Hoibo (see her and Todd's picture above), I got crazy over letter press stationary, found some beautiful cards from the golden hen press and fell in love with a the post card machine, a girl that sat in a tent talking through a microphone pulling in money and giving out self made post cards.
And for all of you that couldn't join us and got some goodies – here is a little contest: The first ten who guess what Nayantara is wearing (which BurdaStyle dress and which BurdaStyle top?) will get a package with BurdaStyle give aways: The ultimate BurdaStyle personal measurement card, postcards and lots of (pin) buttons with fun sewing motives!