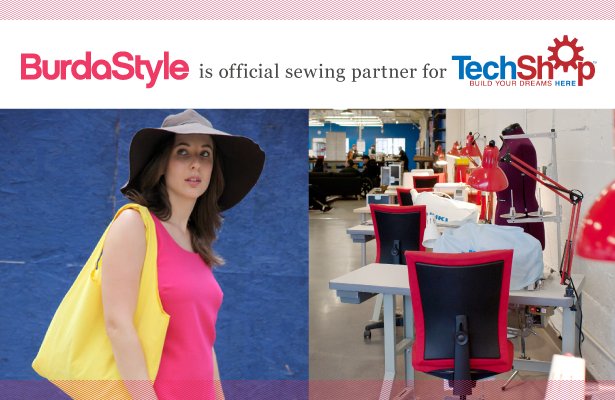 ShareThis
We've partnered up with the world's first DIY workshop, TechShop, to extend the online BurdaStyle experience to the offline world by becoming the official sewing partner for all TechShop locations! With spots in Menlo Park, San Francisco and San Jose, California; Raleigh-Durham, North Carolina; and a Detroit location scheduled to open later this year, TechShop offers member-based, do-it-yourself workshops with high-quality machines, tools and software along with training and workspace for all creative skill levels.
By partnering with TechShop we bring our 900+ fashion-forward sewing patterns, step-by-step tutorials, expert community and DIY fashion know-how to TechShop's member base, giving both beginner and advanced sewers the opportunity to take their BurdaStyle sewing experience to TechShop's amazing facilities. Complete with standard and industrial machines, plus overlock, embroidery and quilting machines, TechShop provides all you need to get the most out of your BurdaStyle sewing experience. Participate in a class or sew on your own, with TechShop and BurdaStyle there's no limit to what you can create!
Make sure to check out TechShop for more information and attention all Make fans, both BurdaStyle and TechShop will be at World Maker Faire this September in New York at the NY Hall of Science! Grab your tickets now to stop by, say hi and participate in some great DIY workshops and Make + Take events.