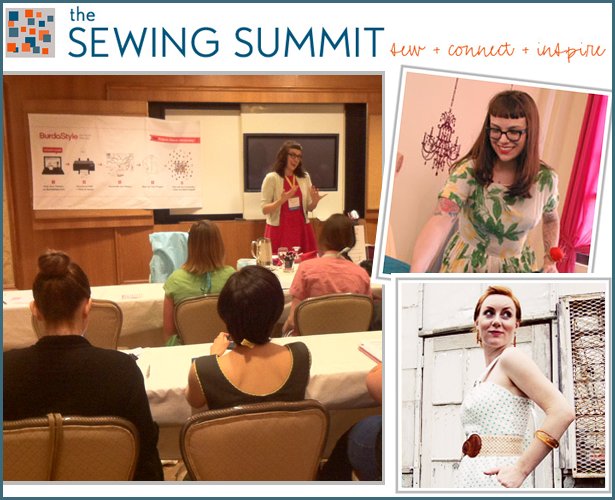 ShareThis
Hi Everyone! Sunni Standing from A Fashionable Stitch here, checking in with you to let you know the happenings at the Sewing Summit which was held in Salt Lake City, Utah over this past weekend. It was the first event of its kind here in SLC that lasted a short 3 days and offered classes on both quilting and garment sewing, plus a sprinkling of classes on blogging and photography. Having a mix of both quilters and garment sewers this year, I'm interested to see what the future holds for both groups in terms of this annual event and I do hope that the option to include the garment sewing side of things keeps growing. Having lived in Salt Lake City for a long time I haven't been exposed to too many "serious garment sewing enthusiasm", so it was refreshing to meet people who sew their own clothing and are really passionate about it.
Being a fairly new addition to the BurdaStyle Ambassador team, I had the opportunity to help out in the classroom and watch one of my favorite blogging icons do her thing! It's official, Gertie was here in SLC and I got to touch and see a few of her amazingly constructed garments, plus hear her disertate a little on fabrics, handstitching, tailoring and fitting. She's a gem and the content she delivered was superb! My favorite class had to be Gertie's "Getting a Perfect Vintage Fit." Being the fitting guru that I am, I LOVE hearing about how others fit themselves and what kind of tips and tricks they have up their sleeves. Above all, the tips Gertie included for getting that perfect vintage fit were easy to understand and quite simple to apply. It was completely genius and I think an overall favorite!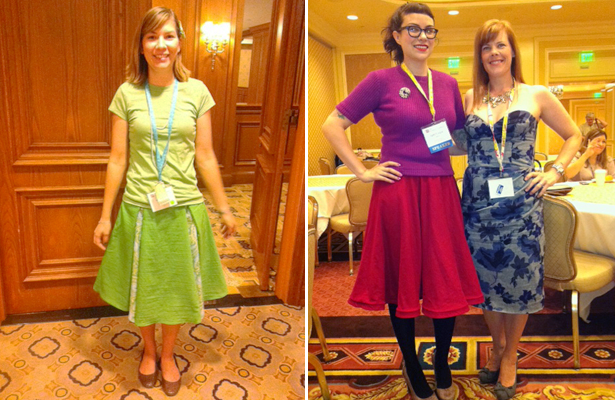 Left: Michelle Ogden from Seamingly and her Pleated Skirt project from our September Sew Along. Right: BurdaStyle Ambassador (and Bombshell Dresses class instructor) Gretchen Hirsch with member Tracey Wirth in her bombshell dress.

Tracey in a beautiful dress made from a BurdaStyle pattern.
A huge highlight for me was meeting other sewing bloggers in person. It's fun to read about people and take part in their adventures online, but meeting them is even better! I met several ladies who I've read about and become familiar with through the blogosphere and they were all delightful, like Katie from Kadiddlehopper who made my day made my day. She wore her handmade belt, made from a kit she bought from my shop! Isn't she gorgeous? She's a doctor too! And here we are sporting our handmade belts.
Overall, the Sewing Summit was a great success and I'm truly excited to see what the future holds for this event, especially since it's right in my backyard!
~Sunni
Sunni is a shop owner and connoisseur of fine sewing. She gets a high from natural fibered fabrics, perfectly fitted garments and vintage and modern fashion. You can find out more about her via her creative stomping ground, A Fashionable Stitch.