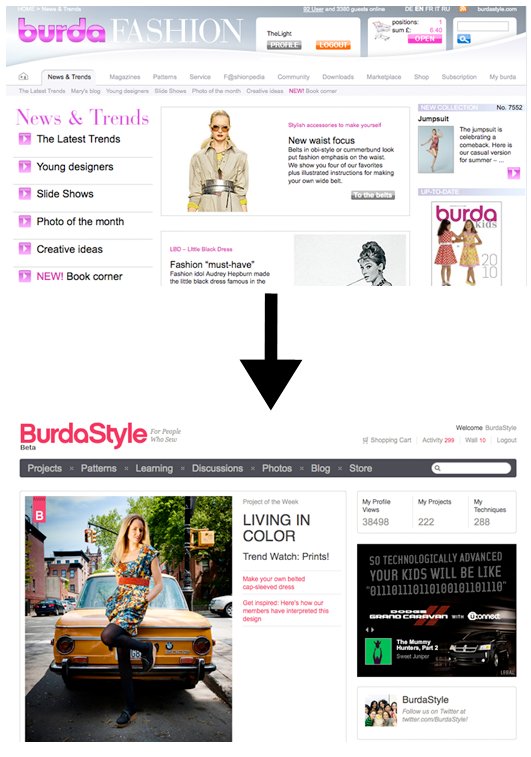 ShareThis
[UPDATE: 04/17/2013] – In June 2010 the former Burda website in English, BurdaFashion.com was redirected to BurdaStyle.com.
We regret to report that the merger between BurdaStyle and Burda Fashion did not take place and BurdaStyle is unable to offer the same content as the former site. Please find the appropriate contacts below regarding information once available.
Burda envelope pattern customer support and sales:
- Germany: www.burdastyle.de
- France: http://www.burdafashion.com/fr/index.html
- Italy: http://www.burdafashion.com/it/index.html
- Russia: http://www.burdafashion.com/ru/index.html
- United States: http://www.simplicity.com
If you purchased a Burda envelope pattern in the United States and need support regarding your purchase, please contact Simplicity Patterns directly.
Simplicity Patterns customer support: Sharon Dorris, SDorris@simplicity.com
Simplicity Patterns Co., Inc., 6050 Dana Way, Antioch, TN 37013
If you purchased your envelope pattern outside of the United States and/or need support for an issue beyond the purchase (including English instructions), please contact the Burda Fashion Factory for assistance.
Burda Fashion Factory customer support: Liliane Tricard, liliane.tricard@burda.com
BurdaStyle.com sells downloadable PDF sewing patterns only. Between 2007-2010 BurdaStyle.com created a collection of exclusive PDF patterns from their NY office and in 2010 the team ceased pattern production and began selling PDF patterns by burda style magazine, which are under separate copyright laws. BurdaStyle.com does not offer customer support for patterns not available on the site.
If you have any feedback related to burda style magazine's editorial content and/or pattern collection design please contact the magazine directly.
burda style magazine customer support: burdastyle@burda.com.
If you have any questions about BurdaStyle.com, please visit our FAQ page.
---
On June 2, 2010 BurdaFashion.com users will be redirected to BurdaStyle.com.
Like Burda Fashion, BurdaStyle is a vibrant community filled with chic and stylish sewing patterns, a large collection of sewing tips and tricks, and a fantastic selection of frequently-updated user creations for you to see and contribute to.
In order to take advantage of our community, we encourage you to join. Registration is absolutely free! In the upcoming weeks, many of the relevant Burda Fashion patterns and how-tos will be migrated to our site. In the meantime, we encourage you to take a look around and enjoy all that we offer. Here are some of the highlights:
- BurdaStyle offers over 250 downloadable, copyright-free patterns, in a variety of skill levels and tastes! Additionally, we are now featuring a collection of burda style magazine patterns, with 50 new patterns added each month. For information on how to download, buy and print our patterns, please go here.
Beginning Wednesday, June 2nd, the English version of BurdaFashion.com will be redirected to BurdaStyle.com. If you are a Burda Fashion member, welcome to our community!
- We encourage user variations and love seeing them posted on the site! Visit our Project section to view the latest uploads, and submit your latest sewing creations! Users can also upload their own Patterns onto the site, and share their creative knowledge by uploading their own Techniques!
- Similar to Burda Fashion, each BurdaStyle member has their own profile! Store an organized collection of all your favorite patterns, projects and techniques, maintain your very own sewing studio, update your activity feed and much more!
- Like Burda Fashion's F@shionpedia, we have a comprehensive Terms section detailing key sewing words and definitions. Learn about everything from Alpaca to Zippered pockets!
- Like the Burda Fashion newsletter, we offer a weekly newsletter updating you on the latest BurdaStyle news, including our featured project of the week. If you haven't done so, we encourage you to subscribe! See the subscription form on the right-hand side of our homepage.
- Our BurdaStyle Sewing Clubs, a worldwide, offline extension of our online community, is a great way to find sewing motivation and like-minded people right in your neighborhood! [Updated 7/15/2011] Discover how you can connect with over 260 sewing clubs around the world, or form one of your own. And check out our growing Resource Map, a collection of recommended sewing-related businesses all over the world, and contribute your favorite shops today!
- If you have any questions regarding our patterns or other site content, our excellent Discussion section (similar to the Burda Fashion forum) is a great place to look for help. Our members have a huge collective knowledge of all things sewing-related, and chances are if you have questions or trouble, someone else might too!
These are just a few of the things we offer here, and we are so happy that Burda Fashion members will be joining us to add even more ideas and inspiration into the mix. For any further assistance, feel free to send us an e-mail to our Customer Support team at Answers[at]BurdaStyle[dot[com].