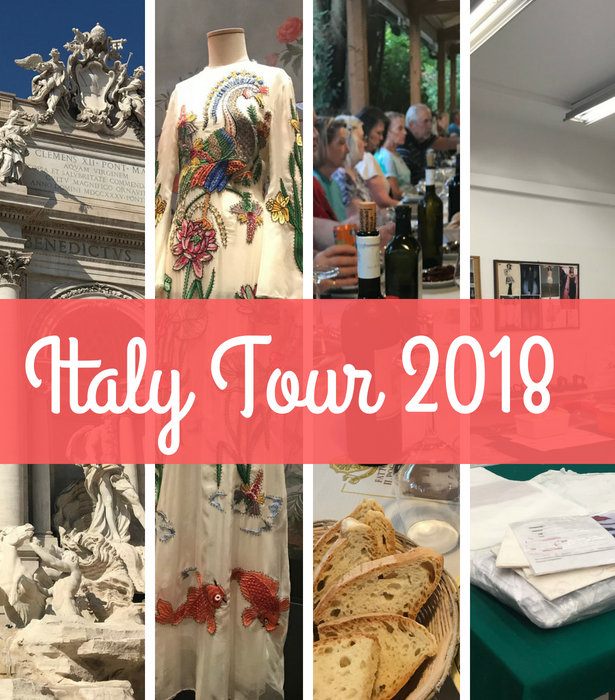 ShareThis
As you may have seen on our Instagram, Ellen March from Sew News & CME magazine and I are in Italy on our Fashion Tour of Italy with Craftours! I'm writing here from my hotel in Rome on the last day of the tour, although I'm sad for it to be coming to a close, I gained so much sewing inspiration while I was here and even picked up fabric for a very special project. Read on to see some of my highlights and info about our next run of the BurdaStyle Certification Course, one of the ladies on the tour was in the course last year!

The tour this year was again filled with wonderful site seeing, fashion factory visits, and wineries. I went on the tour last year and again lived up to my expectations! I love meeting all the ladies on the trip to share the love for sewing and creating, and it is so special to share the experience with like-minded individuals. We're switching it up next year and traveling to England – read more here.



We flew in Milan again and visited the Pino Grasso Haute Couture Embroidery studio and witnessed the workers embroidering pieces for a fashion show that week! Did I mention it was Milan Fashion week while we were there? They showed us their studios and let us touch and feel all their embroidery samples – and here we have Ellen March incorporating this bow embroidery into her outfit for the day. Then we got an exclusive tour of Ratti silk factory where we also got a chance to shop their fabrics, and that's where I picked up this gorgeous lace.



After Milan we headed to Florence, the leather capitol, and a bunch of the ladies picked up new leather goods including me (I bought 3 bags)! One of my favorite stops there which we didn't get to last year since it was closed for renovations was the Gucci Museum.



It was amazing to see just a curated group of Gucci originals and to also be able to see them up close was inspiring. Such detail!



While in Florence we also stopped by The Leather School of Florence again and got a lesson in different types of leather as well as a tutorial on how to emboss leather.



Then of course there was all the site seeing and eating! We stopped at two wineries in Tuscany and had delicious meals and wines as well as a cooking lesson on how to make fresh pasta. I think after last year I'm finally ready to try making fresh pasta at home now that I have had two lessons, and this year my dough was looking pretty good. My favorite site to see were the gorgeous water views of the Cinque Terre as we spent one day touring a couple of the little towns.
Now that the tour has come to an end, it is time for the BurdaStyle Certification Course to Start! The next run of the course starts September 28th and this is the only run of the course until September 2019.



I was such a pleasure instructing this course last year, and since it ended in January 2018 – I'm ready to get back in it! I love how all the student connect and share their progress and projects with eachother and myself. So if you want to be a part of this, make sure to register here! Below are just some of the reviews from last year's course run:



Already certified? We just opened registration into our Advanced Certification Course! which starts in November 2018.
Thanks again to ALL the fashionistas to joined us on the Italy tour – it was an absolute pleasure to meet and travel with you all.
Happy Sewing!