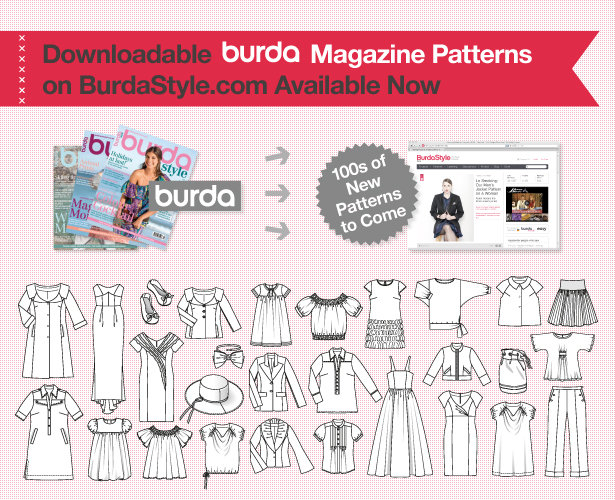 ShareThis
BurdaStyle is pleased to announce the introduction of burda style magazine patterns onto the site! Beginning today, we are presenting 51 hand picked patterns from the existing 2010 issues of burda style magazine. Each month hereafter, we will be showcasing more than 30 burda style magazine patterns specially chosen by our creative team expressly for you, our wonderful community! These fresh new patterns include plus-size options, children's patterns and spot on trends.
This is an amazing opportunity to have both BurdaStyle patterns and burda style magazine patterns under one roof, we are excited to see your creations from both design houses.

While similar in .PDF format to BurdaStyle.com patterns, burda style magazine patterns do have key differences that you should be aware of:

- Seam allowance: burda style magazine patterns do not have seam allowance included. Such is the standard for all burda style magazine's printed patterns. You must add seam allowance yourself.

- Copyright Laws: burda style magazine patterns are not under the same open source umbrella as we are, and therefore are somewhat restricted in use by the copyright laws maintained under burda style magazine.

- What does this mean? You are welcome to download burda style magazine's patterns and sew from them, but you are not allowed to use the patterns for commercial production, sell the garments sewn from these patterns, or sell or give away the patterns.

- Pattern Pricing: Our friends from burdastyle magazine found it easier to have one standard price: $5.40

- What is the difference between BurdaStyle.com and burda style magazine? Both burda style magazine and BurdaStyle.com have the same parent company, Hubert Burda Media. However, each company has a separate staff and are run autonomously of one another. In 1949 Aenne Burda founded a fashion magazine printing and publishing company in her home town Offenburg, Germany. The first issue of Burda Moden magazine was published in 1950 and quickly became the the world's largest magazine for sewing enthusiasts. My aim is to put together practical fashions at an affordable price that can be worn by the largest possible number of women. Aenne Burda.
BurdaStyle.com was created in 2007 by Nora Abousteit and Benedikta von Karaisl and is based in the USA focusing on a new target group.

- Will there still be a new BurdaStyle project each week? Yes! We will continue to produce new and inspiring projects created by our BurdaStyle designers and colleagues each week.