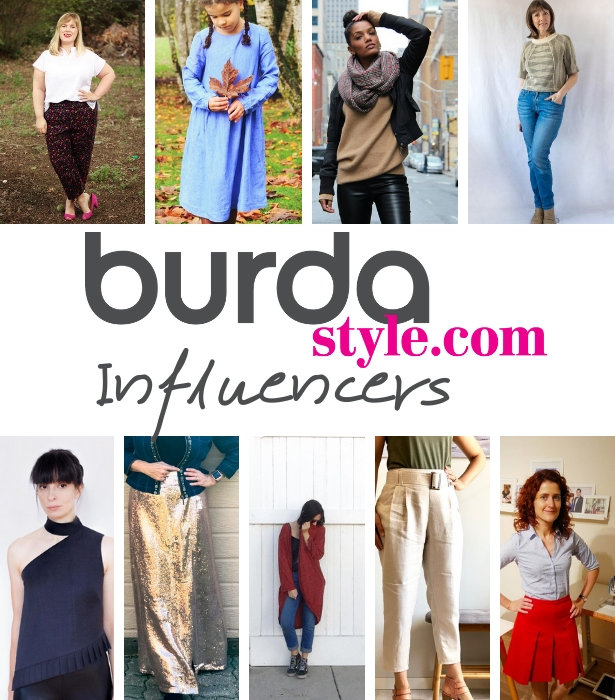 ShareThis
Can't believe Halloween is over, and November is just kicking off! I do love November – that middle time of fall before the holiday craziness kicks in and seeing all the sweater weather projects flood in. Last month our amazing BurdaStyle Influencers made some fabulous garments, everything from cozy cardigans to sequined skirts! Read on to see what our influencer sewed up in October…

Sewing Julie sewed up her first pleated skirt using this pattern. You could never tell that it's her first since she did a fabulous job and used a bright orange denim that was hiding in her closet (she is on a fabric stash clearing journey). Read more about her skirt here.



Heidi over at Elegance & Elephants sewed up this dress pattern for her daughter's birthday, and she has worn it every day since. In the words of Heidi "You can't go wrong with cornflower blue linen and a simple, comfortable design." Totally agree!



Victoria Ann Meyers made this cozy cardigan pattern to keep her warm in the mornings. I love the burnt orange sweater knit fabric she used, and looks so comfy! You can also see it belted on her instagram feed here.



Idle Fancy's Mary whipped up our plus size jersey pants. They're chic, comfy, and those matching shoes are perfection.



You can't help but to fall in love with Sharadha's leggings. She used a single needle and a straight stitch for all seams going lengthwise, and then anything on the width/stretch (ankles, waist), I used a twin needle with a longer stitch. Read more of her tips on sewing these leggings here on her blog.



Diane from Dream Cut Sew not only took over my Mash Up for the month of October, but also made this chic top! She used our Short Sleeve Raglan Top pattern and used some leftover fabric from a sweater dress she made years ago. Love repurposing fabric scraps, and you can learn more about her top here.



Sew On Trend's Kari used our pleated trousers pattern to make a summer pant! She cropped the length, raised the waistline, added some belt loops and made a matching belt.



Sasha from Second Piano finished her refashioners project using this one shoulder dress pattern as a starting point. The end result is fabulous and I especially love the added neck piece – what a chic addition! Read more on her blog here.


Then below we have Sharon Sews who went full glam for her October project and used this maxi skirt pattern to make a full rose gold sequined skirt. Read her blog post here to see more!