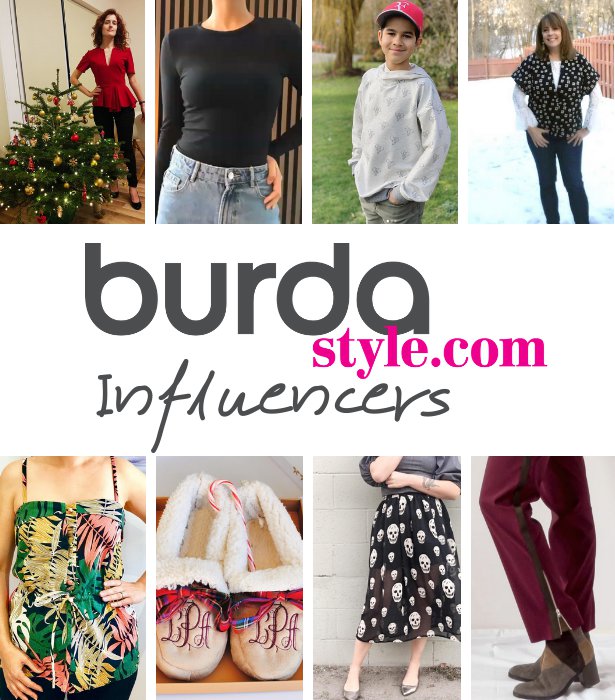 ShareThis
All our amazing BurdaStyle Influencers finished 2018 off by sewing some fabulous projects. Everything from embroidered slippers to children's hoodies and chiffon skull skirts – last month our influencers were busy making all these projects below…

Laura over at Trash to Couture whipped up these monogrammed Sherpa slippers using our Adult Slippers pattern to keep her feet warm for the winter.



Sewing Julie made this lovely red for the holidays peplum top using this pattern Although it took a lot of fabric, the result looks and feels so luxurious.



Elegance & Elephant's Heidi made this awesome hoodie as her last project of the year and the french terry elephant fabric that her son Tobias chose was super cool and a perfect fit for the pattern!



Victoria Ann Meyers did a pretty hefty re-fashion to this skirt – and all I can say is I love the print and how shortening the lining really showcases the sheer chiffon print. She utilized this skirt and the end result is totally holiday-rad that she also wore in her latest blog post.



Sharadha over at Sweet Shard made herself this classic top using our Floral Jersey Shirt. And I couldn't agree with her more, "Nothing like a basic black tee."



Dream Cut Sew's Diane sewed these amazing pants using this pattern and finally got some burgundy trousers in her life – which reminds me that I want some too! They are beautifully finished with a side stripe and ankle zips, and to see more check out this post.

Kari from Sew On Trend made many versions (check out her instagram) of our Button Down Tank from the 07/2018 issue. She even modified the pattern's neckline and to be a dress! Luckily for her the weather in Australia allows her to wear all these lovely pieces right now.



Sharon Sews whipped up two of our Shorts Jackets. One in wool, and the other in faux leather and even has a third cut out from a sheer fabric! Read more here.
Can't wait to see what 2019 brings!
Thanks to ALL the amazing projects sewn by our influencers in 2018, your creativity and inspiration to the sewing community is wonderful to see.
Happy Sewing!