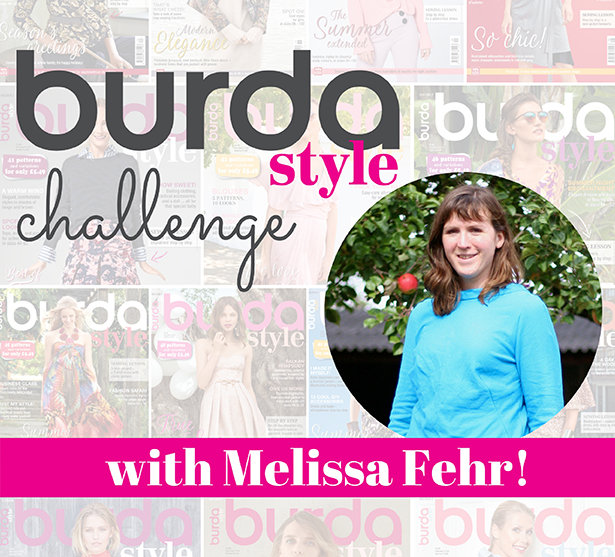 ShareThis
Last week we posted about The Burda Challenge 2018 and how we are joining forces with sewing blogger Saturday Night Stitch! I really only learned about the Burda Challenge this year when I saw Hila post that she was doing the challenge and invited all to join. Then I became fascinated with it and learned that the challenge was conceptualized in the forums of Pattern Review! Best of all, I also realized I have been technically doing a Burda Challenge every year since starting at Burda (almost 6 years ago) without even knowing it, because of my monthly Mash Ups! This week I wanted to take some time to feature past sewists that have done a Burda Challenge, and today we are happy to share what Melissa from Fehr Trade made for the Burda Challenge she did back in 2012.

I'm a fan and follower of Melissa from Fehr Trade, and I especially love her BurdaStyle Magazine reviews! She has a knack for sewing knits and athletic wear that lead her to write a book Sew Your Own Activewear. She is also fabulous as constructing fashion garments using BurdaStyle patterns as she did for her Burda Challenge 2012, and I asked her to share some of her favorite makes that she sewed during her year of sewing Burda several years ago. Melissa also shared that she is still wearing these and they are part of her regular clothing rotation even 6 years later!



From the 08/2012 issue Melissa sewed up our popular Peplum Top in a grey flannel fabric.
"You can really see how nicely the peplum and waist seam dip lower in the back in the side view photos! I think this is my favourite aspect of this pattern, it's so nicely drafted and it means your bum is covered even if you decide to pair it with leggings like I have!": – Melissa



This pattern is from one of my personal favorite BurdaStyle pattern collections ever! And I love how Melissa styled hers with denim-look leggings. I'm really tempted this year to tackle this peplum top myself with a matching bright skirt like in the pattern photography. I know when Melissa made this top peplums were super on-trend, but I still love them today.



Melissa calls this project her Chic Little Sweatshirt and that's exactly what it is! This pattern is from the 09/2012 issue of Burda that she chose to sew in a bright turquoise sweatshirt fabric.
"I just love the cut of this top – it's so nicely fitted throughout the body, and the neckline and 3/4 length sleeves really are so chic. So like the title says, it really is a chic little sweatshirt! I've only had it for two weeks and already I've found myself reaching for it more often than I should. It's really easy to wear and looks great just thrown on when it's chilly." – Melissa



The exact pattern used was our V-Back Top that almost has a 60s' retro flair to it.



Her Vintage Wiggle Dress also made her favorites short list, and I can see why! She used a lovely sage green marl ponti roma jersey, and it just turned out magnificent. This pattern has always been on my to make list, and now I think I have to take the plunge.
"I'm stupidly happy with this dress – it's the exact right snug, clingy, long sleeved knit sheath dress that I love to wear in winter. " – Melissa



I love when Burda releases a vintage pattern that they remaster from the Burda archives (we also just released a new one yesterday) and this one that Melissa sewed was from the 11/2012 issue and can be downloaded here. The neckline and gathers really makes this dress pop for me, and I love how she used a light colored jersey to make them more noticeable.


Click here to see ALL Melissa's projects from her Burda Challenge 2012, and if you did a Burda Challenge in the past and want to be featured let me know in the comments!
Melissa is also an active member on BurdaStyle.com with over 190 projects in her studio! Check them out here.
Happy Sewing!