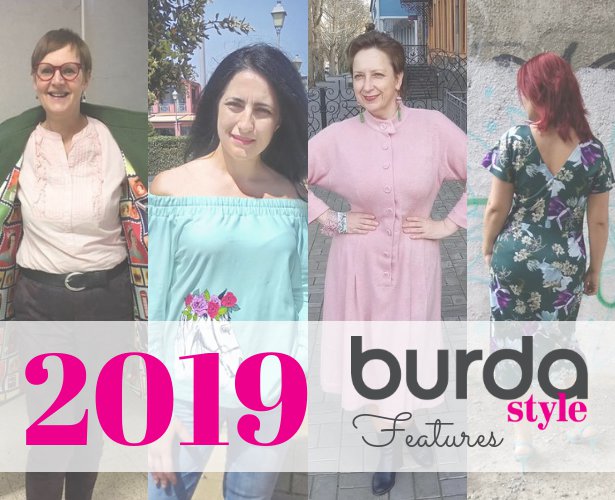 ShareThis
Really can't believe it's June, but with that comes some fabulous summer sewing projects! Read on to see the best of May, and what I plan on sewing up this month for my Burda Challenge 2019…

Member Ngo Binh on the left sewed this stunning Retro Ruffled Neckline Dress in a printed silk. Then member marsellin on the right is wearing her New Favorite Dress! It's our favorite too.



This lovely Green Wool Coat made by geja on the left for a motorcycle trip in Italy – so fabulous! On the right we have gardengal in her lovely Bow Back Blouse made in cotton lawn which is so breezy and cool.



Momita on the left looks super chic in her new Blouse with voluminous sleeves, which is one of her favorite patterns. Then on the right member Mark Francis made this summery striped Turlough Shirt inspired by the one worn by Mark Strickson in Doctor Who, Planet of Fire in 1984 – very cool!



Two beautifully bright summer dresses! On the left we have member Sarah-Ann's Bold Fabric Dress using fabric she bought at Mood. Then on the right AndreaMartucci made this stunning Corset Dress in Rifle Paper Co fabric, and although the corset looks complicated to put together she says it's quite easy!



You can always count on Ellen Hatteland to whip up something fabulous, and this Blue Flowers Dress is both beautiful to look at and comfy to wear in jersey. On the right we have member Oksana Starzhynska in this amazing Retro Button-Up Dress who after sewing and then wearing it for some time, she likes it even more.



Member Evmorales on the left made this Submarine Dress after seeing one I had made a couple years ago – I love the floral and stripes together, how fun. To the right is member Elpida Kyriakou who HAND PAINTED this horse onto her Top. Wow, just wow!
Thanks again to everyone who posted and shared their May makes! Over on Instagram, here are some of the projects shared in May using the #burdachallenge2019.



In last month's recap I said I was going to sew a wrap dress for my Mash Up, instead I switched it to this Dress with Side Slits. I also planned on making the Off-The-Shoulder Top from the 05/2019 issue, but just couldn't find the right fabric to use for it.
So I managed to complete my Mash Up, as well as a swimsuit and a pair of pants that I both haven't photographed yet. Will share as soon as I do!



My Mash Up can now take all the glory! I converted the dress pattern into a two-piece set that I adore, and now can mix and match the pieces.



For June I plan to sew our Button Front Skirt from the new issue, as I adore the hem length and silhouette. I already have it cut out in a vibrant yellow fabric and I'm super excited to get started on it. I still want an off-the-shoulder top, so to make it more suitable for the summer I plan to sew this one in a summery print.
Can't believe it's June already, but I do love summer sewing. Love seeing everyone's projects, so keep sharing and I'll keep posting these monthly round ups. Need help planning out each month's makes? Check out our FREE project planner to help you keep organized.
Happy Sewing!