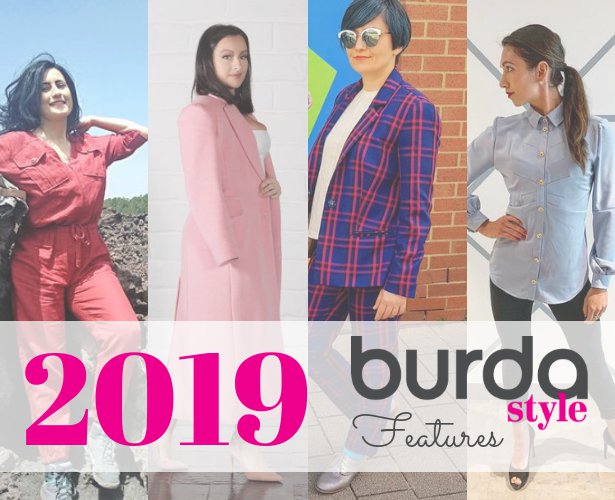 ShareThis
We're in the thick of summer now, and last month's projects were perfectly transitional to get us really in the summer spirit! Read on to see the best of June, and what I plan on sewing up this month for my Burda Challenge 2019…

Power member Elpida Kyriakou made this fabulous red jumpsuit using two different jumpsuit patterns! Then we have this amazing plaid suit made on the left by member serenageo – it's simply plaid perfection.



Pretty in pink! On the left member JuliaBobbin made this absolutely gorgeous Burda pink coat, then on the left we have Ellen Hatteland in her floral sheath dress.



We're loving gardengal's skirt with belt bag on the left in denim which she claims is "the best ever skirt pattern ever!" Also loving Martina's The Boss Shirt on the right which is exactly how she feels when she's wearing it.



BurdaStyle Influencer SewingJulieBlog whipped up this amazing plaid a-line shirt dress. Then on the right member ddtedja made this lovely little batik dress that is planned to be worn to a rehersal dinner – very nice!



DanaRose84 on the left made this dress using the sleeve pattern from a boyfriend shirt! Then Frenchy-C made this fabulous sheer sleeve jacket to be a little more bold with her prints and colors.



On the left, member SeamRacer made this lovely asymmetrical blouse because she was intrigued by the design – it turned out fabulous! And lastly, on the right is mimoza's couture vases dress which takes us away to vacation style.
Thanks again to everyone who posted and shared their June makes! Over on Instagram, here are some of the projects shared in June using the #burdachallenge2019.



As I planned in the May recap, I set out to sew our Off The Shoulder Crop Top and then for my Mash Up, our Button Front Skirt.
Happy to say that I managed to make both, and then some!



left: Summer 2019 Uniform; middle: Pants with Side Slits; right: Mellow Yellow Button Up Skirt

Very happy with how all my June projects turned out, I managed to make three more pieces that were unplanned! I made a second off the shoulder top using the same pattern and excluded the ruffle using leftover yellow twill from my Mash Up. Then I wanted some more pants to wear during the warmer weather, so I whipped up a THRID pair of our Utility Pants to be a part of my official summer 2019 uniform – crop top and wide legs pants. But I did venture to another pants pattern using these ones to make a pair with high side seam slits for a breeze!



Now for my July plans! I want a new bathing suit for the season, so I was SO excited when I saw this one in the 07/2019 issue, and I'll be sewing it for my next Mash Up. Then I also really liked this halter top pattern from the same issue. Thought it was super chic, and I can always use more summery tops.
Need help planning out each month's makes? Check out our FREE project planner to help you keep organized.
Happy Sewing!