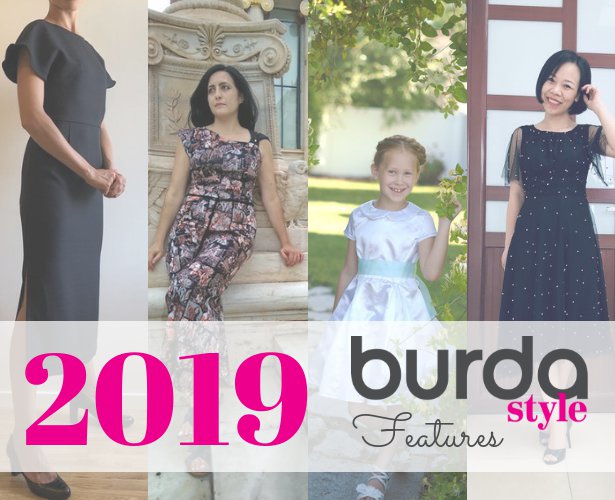 ShareThis
Can't believe it's August already, but the following projects posted in July make me that much more excited for what will be sewn in August – there is everything from sequin blazers to linen pants and everything in between. Read on to see the best of July as well as what I plan on sewing in August (yes, there may be more bridal stuff)!

Loving member Kuriton's Victorian Blouse styled here with a neck scarf and broach. Then on the right member MBarryKerry's Linen Trousers make us want summer never to end!



Dresses galore! On the left we have this fabulous Metallic Lace Dress made by Ngo Binh, and on the right member Oksana Starzhynska made this Dress Inspired by Florence and it reminds us of its beauty too.



I think little Ivy's Baptism Dress is so adorable, and made by her talented sewist mom Mckellm! On the right we have this signature Jumpsuit sewn by member Mmun – fits perfectly (and she used the BurdaStyle way to shorten to a petite size).



I mean, how can you not fall in love with SewingJulieBlog's Trapeze Circle Dress on the left. Then member JuliaBobbin whips up this fabulous Sequined Blazer inspired by the Balmain Haute Couture Show at Paris Fashion Week, Jan 19.



Loving these summery prints! On the left we have fricksy's Dress without Knotted Belt, and to the right Elpida Kyriakou's Art-Nouveau-Dress using fabric discovered in her favorite antique fabric store in Atnens.



Member Frency-C on the left made a new Business Trench Dress with a little help from my recent Sew-Along! Then on the left meggisews used up some vibrant yellow jersey to make this top for a vacation.



Memer mariaseisdedos made this dress for a perfect Night at the Opera – and just as she said this dress pattern is "simple and stylish". Ellen Hatteland on the right whipped up this wonderful Wide Sleeve Blouse using diamond buttons!
Thanks again to everyone who posted and shared their July makes! Over on Instagram, here are some of the projects shared in June using the #burdachallenge2019.



My plan in July was to make our Halter Swimsuit pattern – and it went so well I ended up just making two! So I didn't quite get to making my halter tank top, but it was for the better in the end because the fabric I was going to use to make it I'm actually using for my August Mash Up dress (below) and I like it much better for that pattern.



left: Bridal Bathing Suit; right Swimsuit to Halter Top

Yes, that's right I made two swimsuits in July! As soon as I finished my Mash Up I immediately knew I wanted to make another one. It sewed together easily, and it was fun to make – and I also already had all my sewing spandex machines and needles out. Very happy with these suits.



I didn't want to make to ambitious plans for August, since my wedding is fast approaching. But since I have made very good headway on my wedding dress I thought I would whip up a dress for my honeymoon in New York City and sew our Elastic Waist Dress for my Mash Up. Then I also plan on sewing up a bridal slip and robe for getting ready. I have already made the corresponding tank to this slip pattern and it turned out so well I'm sure I can sew it up quickly in an ivory silk. Then of course I need an embroidered "BRIDE" robe right? Well I thought I would make an ivory and limegreen one for myself to feel comfy and special doing my hair and makeup in before the ceremony. I'm just embracing this time in my life and taking the time to sew some custom pieces and I'm really enjoying it.
Note: I'm only sewing these extra pieces because I'm 95% finished my wedding dress and only have hand sewing left.
Don't worry, after the wedding I'm going to do a big blog series of how I made all my wedding garments including my dress! Just want to keep the style a suprise until the big day.
Happy Sewing!