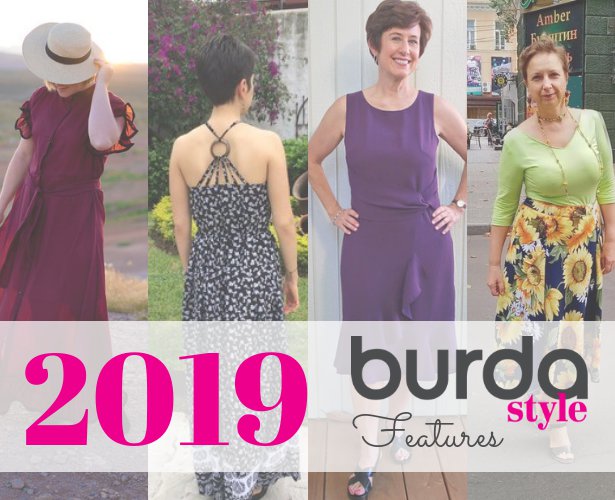 ShareThis
Goodbye summer and hello September! Lucky for me September is actually my favorite month of the year, as it's National Sewing Month and my birthday. But before we move onto September, let's look back at what was sewn and posted in August…

On the left member Danela Novakovic-Djordjevic made this Blue Lapel Wrap Dress that her daughter pictured above also could wear while she was pregnant! Then on the right Keit123 sewed up lovely floral Asymmetric Hem Dress.



Member gardengal on the left is very happy with her new purple Dress with Flared Hem Ruffle and Ellen Hatteland on the right used a scarf to make this beautiful top pictured in this outfit with linen pants.



Lefilalagratte posted her first project – this Tank Dress, and we agree that it is both elegant and comfy. Mckellm on the right has done it again with this Burgundy Silk VoileDress that is pictured just as beautifully as it is sewn.



Member Marusya Grace on the left made this colorful (Maltese star) Ukrainian Hand embroidered Leather Crop Jacket that is stunning and on the right we have this Strapy Back Maxi Dress made by Patty89 which she loved as soon as she finished it.



Elpida Kyriakou on the left sewed this Perfect Summer Dress in a non-traditional summer color. The on the right Oksana Starzhynska whipped up this lovely look consisting of a Sunflower Skirt & Lime Top.



Cathysews on the left kicked off her August sewing with these Ankle Cuff Trousers and member Ngo Binh on the right made this amazingly classic Chanel Style Dress sewn in tweed.
Thanks again to everyone who posted and shared their August makes! Over on Instagram, here are some of the projects shared in June using the #burdachallenge2019.



I had some big plans in August, and I managed to sew them all! But for the robe I actually switched to using this Sheer Kimono pattern instead and I think it turned out lovely.



Before talking about my bridal robe and slip I have to mention my print mix Mash Up dress. It turned out perfectly, and I can't wait to take it away with me on my honeymoon to NYC. For the pattern I used our Elastic Waist Dress and you can see link to my tutorial posts here if you want to sew one for yourself.
The robe and slip turned out just as I wanted and thanks to Shannon Fabric's Silky Satin in off-white and limegreen it's was perfectly bridal for me getting ready. Later in the month I'll post more on these projects as part of my wedding series.



I'm taking it easy sewing wise this month and only going to make my Mash Up which will be this jacket pattern from the 09/2019 issue. I love the cropped hemline and self-fabric belt.
What are you sewing plans this month? Also don't forgot to post them in our projects section so I can feature them in next month's round up.
Happy Sewing!