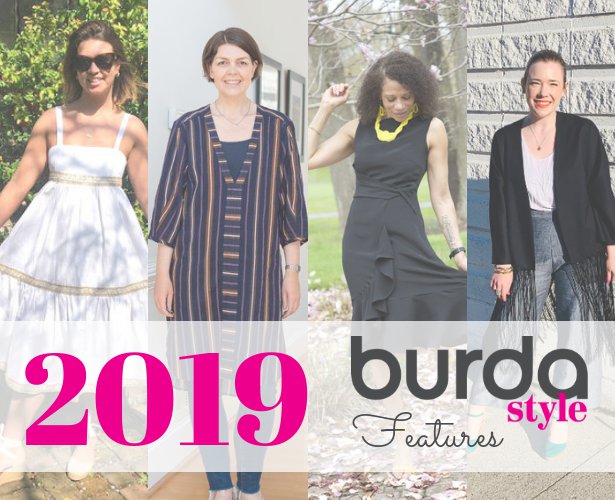 ShareThis
April not only brought on the showers, but also showered us in fabulous projects both posted in our projects section as well as Instagram! Read on to see the best of April 2019 as well as what I plan on sewing in May 2019…

Member Irina Schwab on the left sewed up this amazing waterfall sleeve blouse with oversized pearl buttons that she loved the sleeve detail of – and I do too! Then on the right member MieB made this fabulous deep V tunic in a lovely striped rayon/cotton blend voile. The color palette and utilization of the stripes is so nice and makes for a effortlessly chic and comfortable style.



Just these pictures makes me want to go outside! On the left we have member iluv2sew61 in her colorful pink biker jacket, and janene who made her friend Etta this summery dress.



I have wanted to see our vintage Cher jumpsuit sewn up, and member steelyseamstress did a fabulous job making her version in denim. Then on the right member modistrasews made this fabulous pleated peplum top in evergreen brocade – I would wear this top everyday if I could!



Bailey Brown on the left sewed up this vintage-like shift dress in a plaid knit, and it looks beautiful on her. Member mariaseisdedos entitled her project on the right Plastic Fantastic, and I love it just as much as the top!



Member cathysews utilized my favorite color for her green panel dress and it turned out so great! Then on the right we have power member Ellen Hatteland in her lovely swing blouse.



Elpida Kyriakou spent her Easter in the city, and made this lovely dress for the occasion. Then sewhotmommi on the right is enjoying the season in her flounce dress sewn in a drapey black fabric – was a fabulous LBD!
Thanks to everyone who posted and shared their April makes! Over on Instagram, here are some of the projects shared in April using the #burdachallenge2019.



April was a very busy month for me, and in the last challenge round up post I set out to sew my Mash Up kimono as well as this dress pattern to film in. I recently just got back from Colorado filming some new sew-alongs (which is why this round up post is a bit late) and before I left I didn't end up having time to make a new dress to wear on camera. I lucky found some other outfits to film in that worked well on camera. That being said, I still want to sew this dress pattern as I love the neckline and sleeve ruffles – I just don't need a new long sleeve dress right now so I'm putting it on gold for a little while.



But of course I managed to complete my April Mash Up which I made this fringed kimono using this pattern – and I love how it turned out and so glad I went with the long fringe trim. Here I'm actually wearing it with the pants I sewed up featured in last month's recap.



Now for my sewing plans for May, and can't believe we are already half way through the month. But with no trips ahead I can focus on these easy sew knit projects. For my May Mash Up I'm sewing up this maxi wrap dress that just screams summer comfort for me – and then I also fell in love with the off-the-shoulder sweatshirt from the 05/2019 issue too. I'm heading out fabric shopping soon for these projects and very excited about them. Then I also REALLY need to start sewing my wedding dress, ekk!!
Happy Sewing!