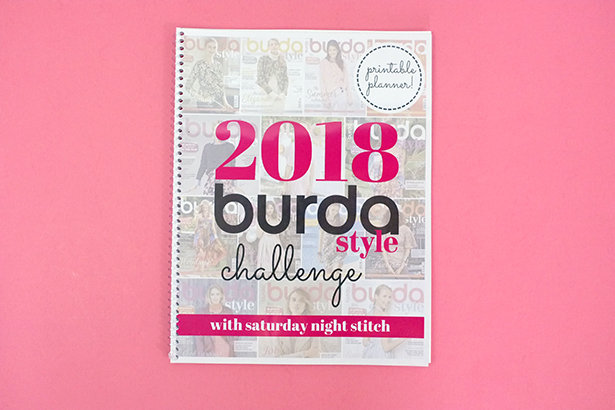 ShareThis
We were so thrilled when we saw Saturday Night Stitch post about her doing a Burda Challenge 2018 doing a Burda Challenge 2018 earlier this year, that we just had to get on board too! And to help everyone participating along in this challenge we created a printable planner so you can plan out all your 2018 projects. Hila from Saturday Night Stitch committed to sewing at least 1 garment each month from BurdaStyle magazine, and is encouraging others to join and make their own personal sewing goals. Read on to see mine and download the free challenge planner…

Let's do this! says Hila in her second post about the Burda Challenge 2018… and I'm totally with her! I already sew one pattern from each magazine for my Meg's Magazine Mash Up series, but I want to sew MORE, so I am committing to sew one additional project from BurdaStyle magazine each month.
In her post Hila encourages participants to set their own personal goal whether it is even sewing one BurdaStyle garment this year if they have never worked with the magazine patterns before. So whatever your goal is you can record it in your planner which you can download here for free!



For my planner, I had it printed and coil bound at Staples (It costed me around $10 – printed in color on cardstock). On the first page write down your goal, and don't worry if it changes over the year.



Inside the planner you'll find one page for each month with optional themes to help you choose and plan your month's project. If your challenge goal isn't for monthly projects, no worries! We have also created a general project planning sheet with sketching/inspiration page, which you can download and print here. These can be used for ANY sewing project you make in 2018 and onwards.



For my January project I'm planning to make our Cutout Back Shirt from the 01/2018 issue. Super excited to get started on this shirt (looooooove the back)! This challenge for me in 2018 is really more about not purchasing ready-to-wear clothes, and ANY new garment that comes into my wardrobe in 2018 needs to be sewn by me. Let's do this.



Hila from Saturday Night Stitch is also using the hashtag #burdachallenge2018, so we encourage you to use this tag too when posting your projects on social media so we can see what each other is up to! Also don't forget to post your projects to our Project's Section with Burda Challenge 2018 in the title so we can find them and post them in our monthly recap posts here on BurdaStyle.com as well as Saturday Night Stitch!



At the end of year we can all reflect together to what we achieved and sewed in 2018, and the new skills we learned working with BurdaStyle patterns.
I'm really excited about this challenge, and I love that Hila and I share the same passion for BurdaStyle magazine and patterns.


Download the FREE printable challenge planner here
Happy Sewing!
Don't forget to follow both us and Hila on Instagram:
@burda_style
@saturdaynightstitch