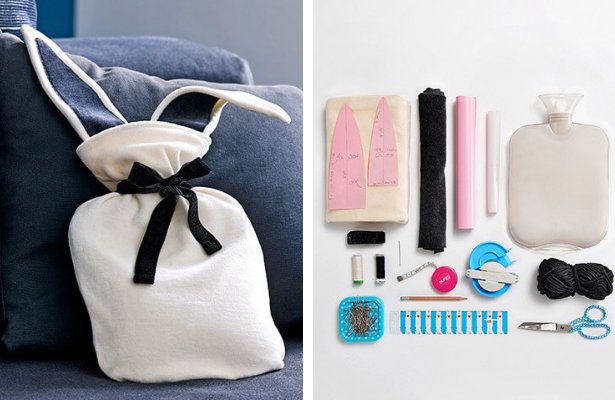 ShareThis
Cold feet or nasty stomach ache? This hot water bottle helps to cure ailments – and looks sweet as well. The cover in bunny design made of soft fabric enchants both children and adults and is sewn super fast. Read on to download the free template and see how it's sewn together…
Images: © Jan Schmiedel

MATERIALS:
+ Minky fabric
+ Thread
+ Vliesofix
+ Pins
+ Hand sewing needle
+ Scissors
+ Ribbon
+ Pencil
+ Hot water bottle
+ Paper
+ Wool yarn
+ Pom-Pom maker
+ Ribbon
+ Ruler
+ Measuring tape
+ Template (download here for free)



Step 1: Print and cut out the template for both bunny ears. Draw hot water bottle on paper with pencil and add approx. 2 cm seam allowance all round, create small facing for top opening.
Step 2: Cut the sleeve 2 times from main fabric, and place right sides together and stitch together with an overlock stitch leaving the top open.



Step 3: Cut the two small ears 2 times from Vliesofix (1 cm seam allowance at the bottom), iron on the wrong side of the fabric of the black fabric and cut out.
Step 4: Cut the ears 4 times from white fabric (with around 1 cm seam allowance). On each of the ears iron on the small black ear and sew on all around with a narrow zigzag stitch.



Step 5: Then put the two ears (with black inner ear) right sides together on the big white ear and stitch at 1 cm. Cut seam allowance back to 2 mm.
Step 6: Turn both ears right side out and iron. Then sew a basting stitch at the bottom of the ears and gather in. Knot thread ends.



Step 7: Cut the facing out (1 cm seam allowance). Stitch the lower edge with the overlock, then fold right sides together and close the side seam with an overlock stitch.
Step 8: Pin the ears to the opening, then attach the facing right sides together and stitch around at 1 cm. Turn the facing inwards and topstitch around 0.7 cm on the right.



Using the pom-pom maker and wool yarn, make a little bunny tail and hand stitch to the lower back of the cover. Insert hot water bottle into the slip and tie "neck" of bottle with a finishing ribbon.