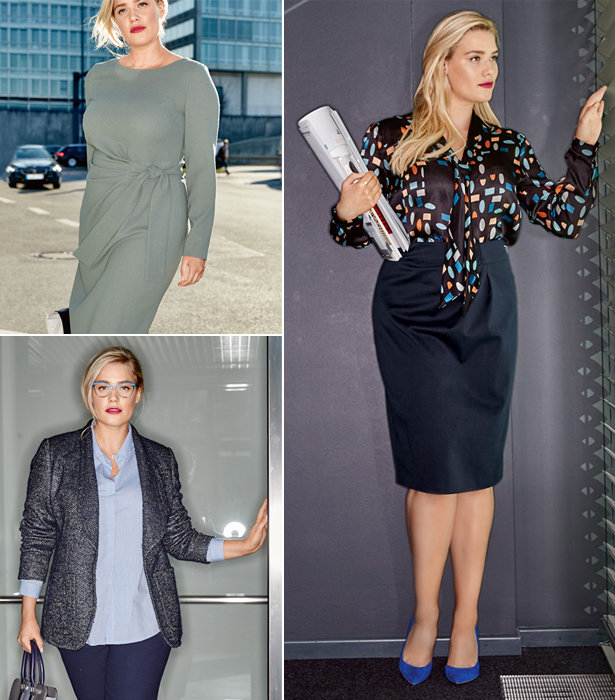 ShareThis
Effortless styles that are equally as elegant. These business wear pieces are refined with delicate details, pure wool and silk fabrics that are complete with figure-flattering cuts.
Click on the pattern image to go to the pattern store page…
The modest cut of this blouse is perfect for this absorbing glitter jersey fabric. Batwing sleeves and a long, rounded hem in back are wonderful finishing touches.
A confidant entrance is best made in trousers that have the perfect fit. These are a good choice with the elastic waistline and sophisticated front panel seams.
Subtle extras like the elastic in the waistband back, seam pockets and hem bands make these trousers an all-time favorite.
A top-stitched shawl collar, oversize patch pockets, panel seams and darts that define the figure. These are the extra details that transform this open front blazer into a fashion highlight.
Here is the trendy alternative to the white cotton blouse. The long shawl collar piece is attached to the back neckline and comes together in front to be pulled through a wide fabric tab.
At the empire waist of the dress, sewn-in bands secure pleats at the bodice and skirt panels for a flowing look. Shortened sleeves make it an ideal choice for autumn. For a different look, make the sewn-in bands in a solid color that draws a color from the print.
Wide shaping bands separate and outline at the neckline of this blouse, as well as at the waistline yoke for a look that sets the decollete in the limelight. The sleeves and draping from the hip of the tunic are relaxed, in contrast.
The inlaid pleats and the attached tying band give definition at the waist, while smoothing over any extra padding in the area. Darts in the elbow add extra shape to the sleeves. Wool crepe should not be washed too often or it will quickly lose its shape. Sewing washable dress shields into the dress will allow them to be washed separately, as needed.
Mini pleats at the asymmetric panel add a sexy accent to the pencil skirt. A one-sided slit in back keeps it easy to move around.
Happy Sewing!