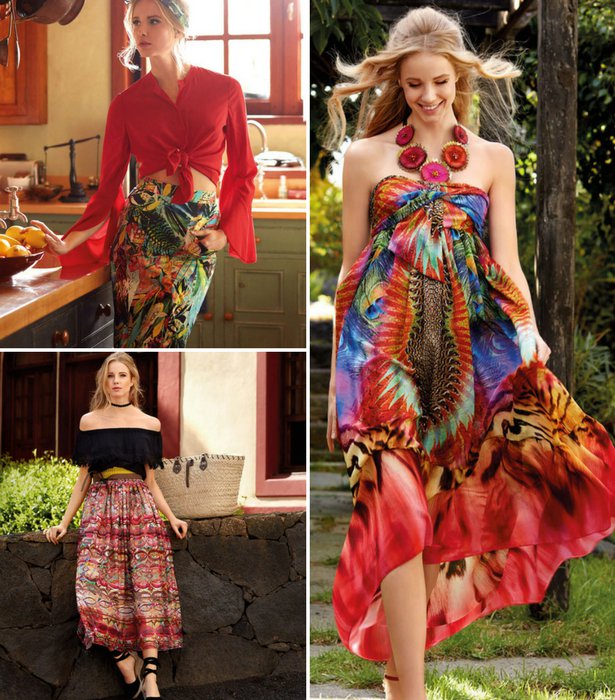 ShareThis
Sultry silhouettes, flowing fabrics and exotic prints in saturated colours: These outfits from the 05/2017 issue of BurdaStyle are wonderfully designed for carefree days soaking in the sunshine.

Are you still missing a skirt that will be perfect for your holiday? This easy-to-sew skirt design is sewn with a printed mesh weave for an easy-care and wrinkle-free look to toss into the travel case.



This fabric is guaranteed to bring on the good summer vibe – and the dress style is amazingly comfortable thanks to the relaxed cut that fits snugly at the bodice with a twisted bandeau look.



Pleats and tying bands lend comfortable width to this skirt. The sides and the back are smooth and shaped – to keep everything in place by design.



The front view is simply classic, while the center back panel of this dress makes it a show-stopper and adds sophistication. Move from daytime to dinner with a narrow belt, gold jewellery and a pair of heels.



The charming look of this blouse with raglan sleeves, a cut-on flounce at the V-neckline and tying bands, is designed proportionally for petite frames. Sleeves and breast darts are placed with petite measurements in mind.



Just as every high-waisted pencil skirt is known to do, it cuts a sexy figure. The fun in the design comes from the exaggerated pockets at the hip.



A softly cascading look with a splash of colour at the shoulder. The palm leaf pattern is placed for a 3D effect along the generous flounce for a beautiful touch on this top.



This jersey dress follows the shape of the body with every step. Multi-layered maxi flounces draw the eyes. Style tip: The design works great with an ombré colour cascade, as well. Simply choose colour values within layering in one hue– from lightest on top to the darkest at the lower hem layer.



The waistline draws in with elastic to shape this modern romper that is sewn with a border fabric – without taking anything from the beautiful cascade created by the pleats. The bustier underneath keeps the neckline plunge in check.



The cool alternative to a skirt. Relaxed fit trousers with hip yoke pockets get a boost in breezy drape from the viscose crêpe fabric. Choose to add a dramatic accent with a contrast colour at the yoke and at the oversized hem of these trousers.


Get all these sewing patterns with the discounted pattern collection bundle here..