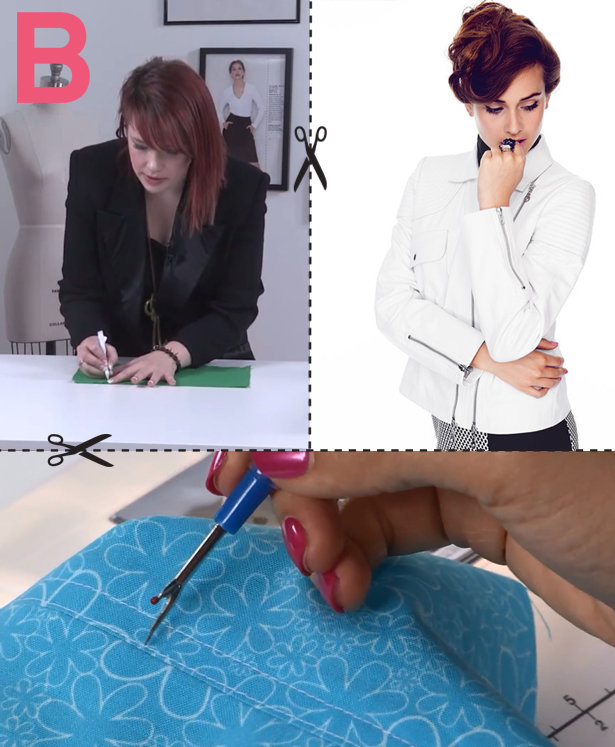 ShareThis
Get the latest Runway to Real World Technique kit, with a web seminar, four technique videos, and three patterns!
Here at BurdaStyle, we try to keep up with the latest runway trends and bring you styles you can wear right now. We sew for ourselves so we can pick and choose the trends we like from the runway, and leave the more outlandish ones for Paris and London! This month's kit is all about getting that one-of-a-kind, sample sale style at home.
Learn to copy the basic lines of a storebought garment with the popular How to Copy a Pattern from Ready-to-Wear web seminar. You'll learn how to trace a new pattern from skirts or other pieces you already own and love. Then, use whatever fabric or embellishments you like to make it fresh! You'll also get technique videos for Topstitching and Edgestitching and How to Sew a Walking Vent (great for those skirts you love that are just a smidge too narrow).
Also included are three of our favorite on trend patterns, the Peplum Top, Pencil Skirt, and White Biker Jacket.
We chose these patterns because they remind us of some of our favorite designer looks. The Fall 2014 Balmain runway proved that peplums are far from over. Take the silhouette to the next level with an unexpected textile, or just embellish a tired peplum top with studs or trim. We show you how with two technique videos, How to Insert Studs and How to Sew a Flounce Trim Under a Hem!
Balmain, Getty Images
With four technique videos, three patterns, and a web seminar, this kit is a steal at only $34.99. Technique kits are available for a limited time only. Get yours now, before they're gone!
Want more runway inspiration? We loved Christopher Kane's strong shoulders and graphic lines for Fall 2014, but the runway look is a little much for your 9-to-5.
Christopher Kane, Getty Images
Use the bold designs for inspiration, and then get a less intense look with the Shift Dress or Wings Dress. Same bold, architectural shape, less fussy detail for your real life! We can't fit every design in this kit, but the Runway to Real World kit is sure to get your creativity going.
See the full listing of videos and patterns in the Runway to Real World kit in the Interweave store.