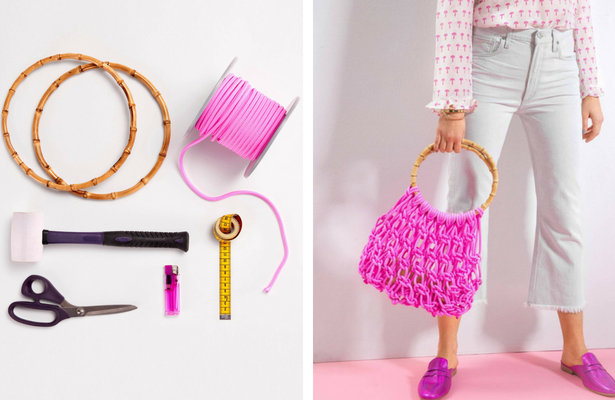 ShareThis
NET A BEAUTY ! Our must-have ignores its origin as a lowly shopping bag and proudly presents itself as the newest It-accessory. Read on to see how you can easily knot one up yourself…

Fashionistas will even wear the look for evenings, with fine silk dresses and high heels as seen on the runways and the streets of Paris and NYC.



+ Purse handles
+ Crafting hammer
+ Scissors
+ Tape measure
+ Lighter
+ Cord: approx. 50 m (56 yds) for one bag, approx. 35 cm (14") in length



Step 1: Cut 32 pieces of cord, each 1.55 m (61") long. Fold each cord pair in half and knot onto a purse handle as shown.
Step 2: 8 on each purse handle.



Step 3: On the right edge, lay the first 2 cords aside. With the next 4 cords, lay the right cord to the left, over the 2 middle cords and under the left cord. Lay the left cord to the right, under the 2 middle cords, and through the loop of the right cord.
Step 4: With the same 4 cords, repeat as described in Step 3.



Step 5: Finish by pulling the left cord from back to front through the loop of the right cord and carefully pull the knot closed.
Step 6: This knot is approx. 10 cm (4") from the handle. Working in the same manner, make an even row of knots at this level (7 knots in the first row on each handle).



Step 7: Depending on the cord you are using, you may want to hammer the knots flat, to stabilize them.
Step 8: First row!



Step 9: Make the knots of the 2nd row as described in Steps 3 and 4 but stagger the knots. For the first knot, use 2 cords each from the 1st and 2nd knots of row 1.
Step 10: Make 5 rows of knots on each handle.



Step 11: Hold the ends of all cords over the flame of a lighter, to melt them slightly and prevent fraying.
Step 12: To close the side edges, make the same knots with cords from both handles.



Step 12: Finally, close the bottom of the bag, with overhand knots. If needed, cut cord ends to the same lengths and again hold over the flame of the lighter.
FINISHED! Wallet and cell phone can be placed in the bag as they are. Smaller items should be put in cases of leather or fabric – try also making this glasses case.