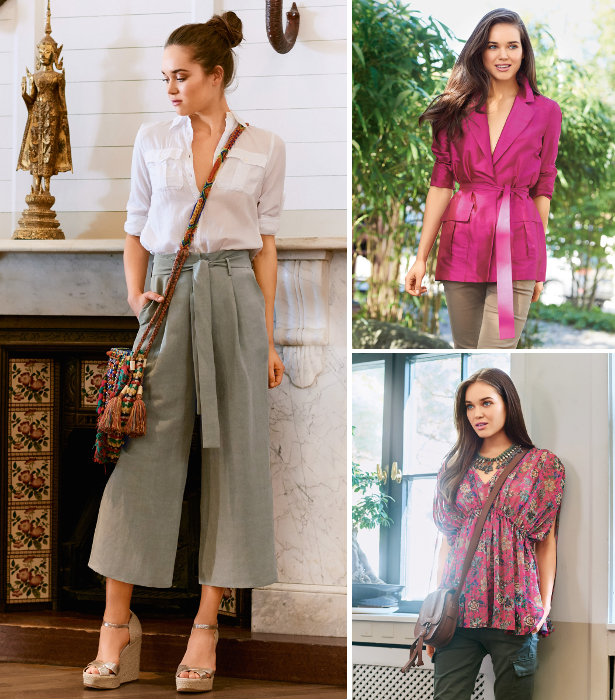 ShareThis
This enchanting collection from the February 2017 issue of BurdaStyle has us dreaming of traveling to far away lands and warmer temperatures.
Blazer = boring? Not when the look is as fantastic as this one! The hot pink colour isn't the only reason you will draw attention – safari patch pockets and tying bands secured into the back panel seams also make it extremely stylish. A great modern alternative to the Saharan look that gives full coverage.
So sophisticated. The buttoning tabs at the waistline and on the sleeves draw in the unlined midi-length trench coat to lightly shape the figure and the narrow lapels add an elegant charm.
The uncomplicated cut of the dress and the grandiose flounce sleeves is a wonderful canvas for highlighting printed fabrics like this viscose twill. The pleat at the neckline draws in the extra width at the bodice.
The romantic flounces come from the back panel, over the shoulders and are then sewn into the side seams – shaping a look that is quite delicate. This tank top is featured with extra details in the sewing course on page 27 of this month's sewing supplement.
This is a skirt that includes beautiful details. One of them is the extra large patch pockets that extend right over the waistband to form a belt loop. Pull a beautiful scarf through as an accent or make your own belt using extra fabric from the skirt.
If you still aren't convinced to follow the culottes trend, this style could be the one that wins you over. The raised waist gives a visual stretch to the legs, and the luxurious linen and silk blend gives them just the right crispness so that every step is really quite stunning.
Lacing and a subtle patchwork optic make this shift dress with the casual seam pockets a must-have for spring.
So…you already have your vacation planned? Perfect! This super lightweight tunic dress with the gathered shoulders and waistline isn't an eye-catcher only around home. It is also a highlight for beach walks. The clever shoulder seam can be adjusted in the "greek" tight gathering style or loosened a bit to drape over the upper arms.
Nothing to wear? This tunic sewn with the glittering floral fabric is sewn together in an evening! The gathering at the shoulders and waistline looks more complicated than it is…
Get all the patterns in this collection here in the discounted pattern bundle.