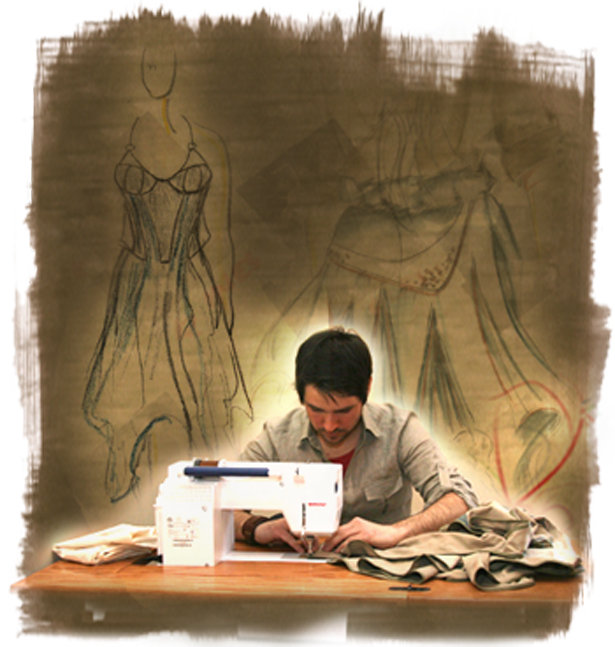 ShareThis
Last time I posted, I talked about how as designers we sometimes start creating or designing way too early. Don't get me wrong … I am all for getting a pattern or downloading one from my free patterns page, or one here on BurdaStyle, buying some fabric you love, and just sewing it together. I also encourage projects like randomly taking some embellishments, and or thread, and stitching them on your old Converse Chuck Taylors to give them some "pizzazz ". There is something relaxing and worry free about jumping right into a creative project like these without any preconceived ideas, or expectations…what can result is something amazing or something that is absolutely horrid… one or the other it almost always looks spontaneous and you almost always walk away having learned something new.
This "experimentation" type design has its place in the design process, as you will see in future blogs … but it is often at the earlier stages of design rather than the end and final product, which is way to often seen in young designers these days.
To seriously pursue design and to find your own distinct style, one must establish his or her own creative process.
This is the typical sequence for a process such as this. I say typical because there are always exceptions but for the most part these are the phases that designers go through.
A Generic typical Design Process path is as follows
I will explain in detail later but let's just bullet point them for now.
• A question – This could be an assignment…. aka brief, a job, a problem, or just a curiosity, or an area of interest of the designer.
• Inspiration – the dictionary defines inspiration as "something that moves the intellect or emotions or prompts action or invention for example…. Aitor Throup has his miniature sculptures which prompt him to explore and examine.
• Research- is the investigation of your inspiration the key word here is "investigate"… like a detective! Looking for and discovering all that you can about the area of inspiration. Again …more to come in future posts.
• Experimentation- somewhere along the process your research stage turns into an experimenting stage. I like to call it "dissecting" your research. For example: if your research has lead you to a certain photograph, you may want to paint over it , transfer it to fabric, cut it into pieces and collage it on a fashion figure or even reassemble it in a distorted sequence. At this stage you may be designing by accident or experimenting with no expectations, like I talked about In my previous post.
• Development- Here is where you use what you have learned from your research and experimentation. In this stage a designer usually chooses from his research what they like, what they learned, or what works well and they refine it. And develop it into a design.
• Executing- this is the process of making a design. It usually develops further in this stage but often times developing is minimal and deals more with technical aspects such as pattern cutting or "tweeking" a design to perfection. This stage may also include presentation planning, which may include final illustrations, styling, accessories, gallery installation backdrops, or show models.
• Finished product- Finally this is the result of the whole process and if done well should result in both a well developed and coherent design.
The design process is one of the areas I teach in my "How To Fashion Design" DVD lesson. Check it out here www.howtofashiondesign.com
Having a deep desire to become a Fashion Designer, Bob Martin, moved to London, England to attend American InterContinental University. Though he has worked for designers such as Vivienne Westwood, Michael Azu, and Edward Griffiths and designed for theater and films such as Tim Burton's "Sweeney Todd" and "Batman Dark Knight", it was his time at AIU in which he developed a passion for relating to students and awaking the Designer in others. With a strong passion to see the very best come out in people and with his team at KKC Enterprise, he created "How to Fashion Design with Bob Martin", an interactive program for people of all ages who are serious or even just curious about Becoming a Fashion Designer. Check out his site for more information and keep an eye out for more of his amazing upcoming blogs!