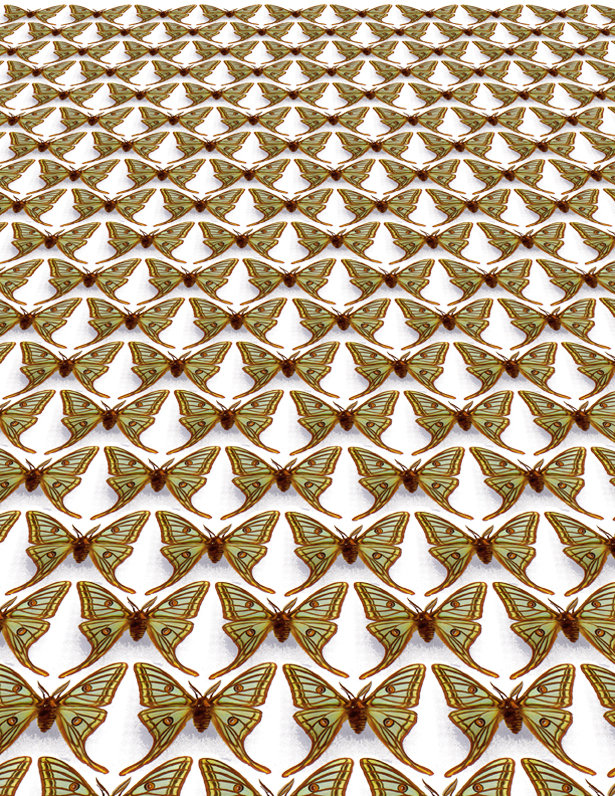 ShareThis
Hey everybody! I hope your enjoying my posts and video blogs here on BurdaStyle.
I wanted to share with you a little behind the scenes of my last video. While preparing to make that post, I was printing the moth out for my collages and to save on paper and time, I duplicated the image of the moth and arranged it in such a way that I could fit as many as possible onto one page, yet easily cut around them for my collages. That way I would get the most out of each page of paper.
As I was scaling the moths to different sizes and arranging them on the page, I noticed that it created a sort of "pattern" especially when I made them smaller.
The point I want to try to drive home here is that all the while I was preparing for one experimental design exercise; another one was being created by chance! I could have very easily looked over this though…
When you design you want to be aware of everything you are doing. Take time to talk to yourself… I know it sounds crazy but it helps to dialogue with your mind. Ask yourself questions, "What do I Like about this?" What is causing it not to work? … So is there something I can do to help it?" "Why is it working so well?" "How can I make it better?" What if I turn it upside down? What if I fold it?…. The list of questions you can ask is infinite.
So back to my accidental pattern… It turned out that it looked like a neat print that could possibly be used on fabric. I quickly put the pattern into Photoshop and added a perspective view to it, which gave me the image you see here… I saved the file and printed a page to place in my sketchbook so that I remember it and I can use it if I decide to take it further. If not for this particular project I am working on, perhaps I can come back to it for another project down the road. Now if I chose too I could continue to develop this print. I may ask myself. "What other image could I use besides this moth?" What would other colors look like? What if the focus of the print became the negative space between the moths, instead of the moths themselves, and how could I accomplish this?
Many times good ideas can be missed. It's easy to do. So be careful. Remember train yourself to notice everything!
Until next time! Bob Martin